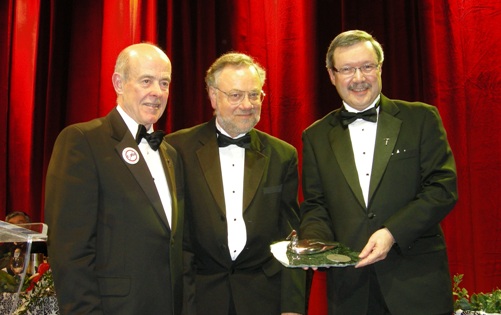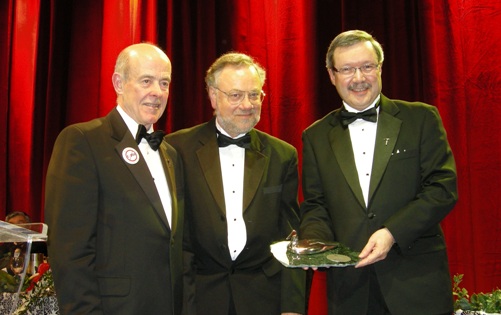 http://www.pendaproductions.com/ This video was produced by PENDA Productions, a full service production company specializing in Corporate Communications with a focus on Corporate Responsibility.
The PDAC Environmental and Social Responsibility Award recognizes an individual or organization demonstrating outstanding initiative, leadership and accomplishment in protecting and preserving the natural environment or in developing good community relations during an exploration program or operation of a mine.
Avalon Rare Metals Inc. is being recognized for its responsible exploration practices with respect to community engagement and its encouragement of skills training and employment for aboriginal people.
Before applying for a land-use permit from the Mackenzie Valley Land and Water Board or setting foot on its new Thor Lake property in the Northwest Territories, Avalon President and CEO Don Bubar introduced himself with letters written to four Dene leader in communities around Thor Lake.
After several attempts at convening a meeting, Bubar was able to sit down with Dene leaders at a neutral location.
They were surprised that Avalon had not applied for a land-use  permit before requesting a meeting. Other companies either had received or applied for land-use permits and then sought permission to enter Dene land.
Despite some positive steps, it was clear that fences needed mending.
Deteriorating material was left from previous exploration programs at Thor Lake, including six old trailers. Avalon hired Dene members to dispose of one aging trailer and other debris. The company will put four of the remaining trailers to good use, while the other will be removed in the coming months.
Bubar gained further respect when he asked Yellowknives Dene elders to rename the Thor Lake project. They chose Nechalacho, meaning "the long point."
A naming ceremony was arranged and Avalon flew an entourage to Nechalacho that included a premier, a senator, and Former Assembly of First Nations National Chief and Avalon director Phil Fontaine.
Dene elders blessed Avalon's rare earths project with prayers and a Feed the Fire ceremony, during which the Dene honour the Great Creator by giving thanks for the air, land and water.
"There are little things that happen along the way where your can see trust gradually build. The naming ceremony was one of those trust-building steps," Bill Mercer, Avalon vice-president, exploration, says.
The company is applying the principles of the PDAC's e3 Plus: A framework for responsible exploration.
Avalon operates one drill at Nechalacho and offers tours of the site, which receives and passes regular government inspections for environmental compliance. Avalon publishes the drill inspection reports on its website.
To mitigate ruttings by tractors dragging the drill back and forth over the permafrost, Avalon Built a network of corduroy trails. In this way, delicate topsoil and the plant roots that help vegetation regenerate are protected.
While the impact of drilling on the environment was one concern, another was a shortage of drilling attendants trained in first aid. Those with training were either unreasonably costly or difficult to find, so Avalon trained its own.
In a plan inspired by Mercer and guided by community relations advisor David Connelly, a first aid course was designed with the N.W.T. Mine Training Society and run through Aurora College in Yellowknife.
Four workers took the course and received safety tickets. At least one person with a safety ticket is required at all times at a drill site. Having more employees with tickets gives Avalon greater flexibility with employee scheduling.
Avalon took a similar approach with its drill helpers.
The company and the Mine Training Society developed a course curriculum based on the Common Core training module used in Ontario. Eleven First Nations members enrolled and graduated as certified drill helpers; two of them now work with Avalon through its drilling contractor, Foraco Drilling Ltd.
As a result of these initiatives, about 40% of Nechalacho employees are aboriginal. It is part of a concerted effort to foster trust and build partnerships among the four Dene First Nation communities around Thor Lake.
Some of the ideas that help Avalon effectively run its business come from an environmental and health and safety advisory committee that includes Missanabie Cree Chief Glenn Nolan, an experienced explorationist.
One idea was to erect a tower that records wind speeds. The 12-month experiment will determine if there is enough wind to justify the cost of building power-generating wind turbines, which would lessen the reliance on diesel fuel to power the mine.
Rare earth elements, like those found at Nechalacho, are key enablers for green technology like solar panels, wind turbines and hybrid cars. Avalon's  dedication to responsible exploration could clearly have a positive impact on the environment long after its drill stops operating.