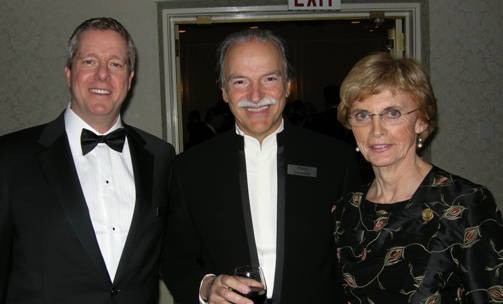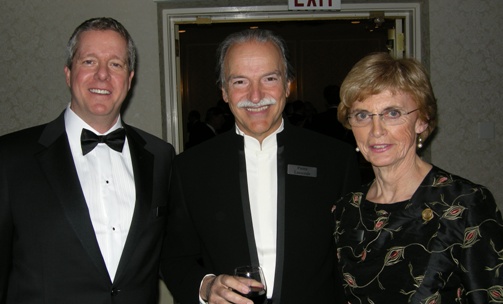 Like the recent record setting price of gold and the stock market recovery, the general mood at the annual Canadian Mining Hall of Fame dinner at the Fairmont Royal York Hotel a few weeks ago in Toronto, was upbeat, bright and a  turnout. Master of ceremonies Pierre Lassonde, Chairman of Franco Nevada Corp. – the Billy Crystal of the mining sector – was practically "giddy" discussing the high price of gold and Tiger Wood's problems. "Gold miners never had it so good, like mosquitoes at a nudist colony" quipped Lassonde. He continued, "there is not enough mustard in the U.S. to cover that hot dog," in reference to Tiger Wood.
One of the highlights of the evening was a spontaneous outpouring of sympathy and financial donations for the earthquake victims in Haiti. Lassonde started the initiative with a $150,000 donation from the head table and challenged the audience to contribute. Lassonde and head table colleagues Goldcorp's Ian Telfer, Teck's Norm Keevil and Inmet's Jochen Tilk each put in $25,000.
"We raised approximately $900,000 between soup and dessert," stated Edward G. Thompson, Director and Treasurer of the Mining Hall of Fame who also donated $25,000. The money which will be matched by the federal government will be given to the Canadian Red Cross.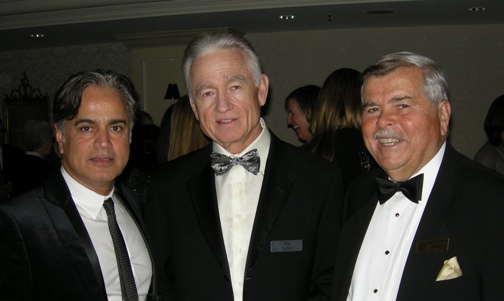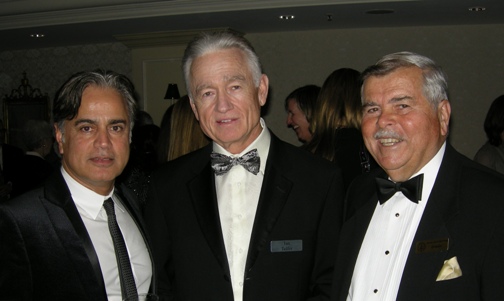 I have been attending Mining Hall of Fame dinners for five years now and I always leave these events with a sense of awe, feeling like I have been given a front row seat watching history unfold in real time. Mining history is really the history of the northern settlement in much of Canada and the enormous amount of wealth, prosperity that has benefited this country in so many ways. It is also about individual Canadians and adopted Americans, Brits and others who passionately believed in Canada and left enormous legacies in their wake.
With the ongoing strike in Sudbury and the foreign control of Inco and Falconbridge by Brazilian and Swiss corporate elites, who seem to have little in common with, nor care for Canadian sensitivities and ways of doing business, I wonder if this country will continue to benefit from the riches beneath our feet?  Have we sold out our valuable strategic resources to the detriment of future generations who will have much less to celebrate at future Mining Hall of Fame dinners?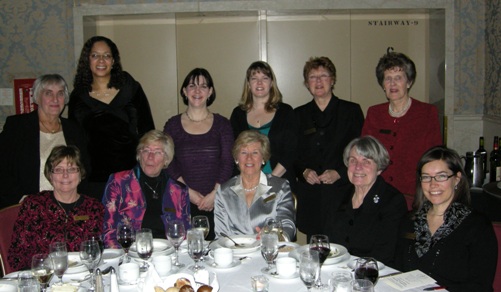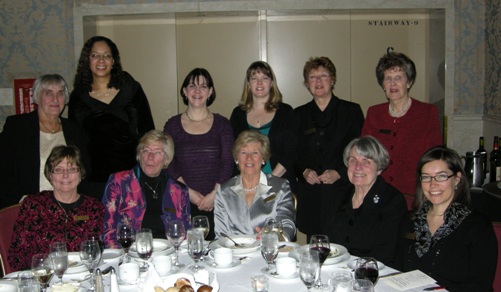 Over the years, I have also sat beside some very interesting people at dinner, ranging from the infamous Peggy Witte of Yellowknife Giant Mine fame, whose partner is from Sudbury and is the older brother of a high school friend, to mining engineer Doug Morrison of Golder Associates, who had previously worked for Falconbridge. I learned a tremendous amount about Sudbury's expertise in underground mine construction and safety from Doug. At another dinner I was seated beside a senior executive from Xstrata who was involved with the Koniambo nickel laterite project in New Caledonia. The poor man could hardly eat as I peppered him with nickel laterite questions.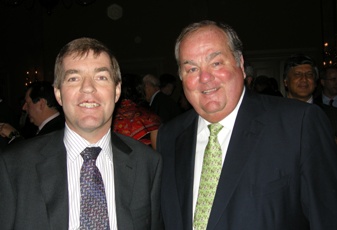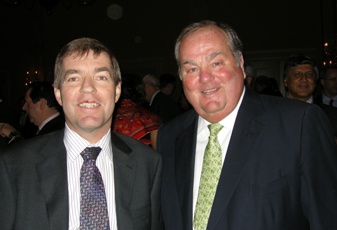 This year's seven inductees range from Peter M. Brown and Hugo T. Dummett both of whom played key roles in the financing and discovery of significant mineral deposits to Victor C. Wansbrough who ensured Canada's gold mines would continue to operate after World War Two with innovative federal government assistance. Also inducted were Timmins-born Graham Farquharson, the man who exposed the Bre-X gold scandal and last but not least, those legendary Timmins prospectors, Benny Hollinger, Sandy McIntyre and Jack Wilson whose discoveries established one of the richest gold mining camps in the world.
Peter M. Brown
Peter Brown has contributed to the growth and prestige of Canada's mining industry by helping many resource entrepreneurs and emerging companies gain access to venture capital that enabled them to acquire and explore promising mineral prospects or develop and operate new mines.  He transformed Canaccord Capital Inc. into the largest independent investment dealer in Canada, with successful operations in Europe and the United States.
His lifetime dedication to building a vibrant junior finance market with expertise in mining and exploration finance  gave birth to Canadian successes such as Corona, the Hemlo discoveries, Eskay Creek and Dia Met Minerals and, through the export of Canadian exploration superior skill, Arequipa, Aurelian and Wheaton River abroad.
 In his acceptance speech, Brown recalled the horrific stock market crash of last year with some grim humour, "What was the difference between an investment banker and a pigeon…a pigeon could still put something down on a Ferrari." He stressed that Canada's mining expertise is greatly appreciated around the world and that risk capital is the life blood of the industry. "Where ever you go in the world where there is mining, you will find Canadians," he said.
Hugo T. Dummett (1940-2002)
Hugo Dummett was one of the world's most respected economic geologists, aptly described as "the brains, the ideas and the energy" behind the first discovery of economic diamond deposits in Canada.  In the early 1990s, he convinced BHP Minerals to sign a joint venture with Charles Fipke and Stewart Blusson's junior company, Dia Met Minerals, and continued their diamond hunt in the Northwest Territories. The result of their collaboration was Ekati, Canada's first diamond mine, and the development of a hugely successful, major new industry.
Dummett's successes were not confined to diamonds or Canada. He was a respected authority on porphyry copper deposits. During his tenure as Vice-President of Ivanhoe Mines, he contributed to the discovery of a huge porphyry copper-gold deposit that bears his name at the advanced Oyu Tolgoi project in Mongolia.
Victor C. Wansbrough (1901-1994)
Victor Wansbrough served Canada's metals mining industry with distinction for more than 20 years as the first full-time Managing Director of the Canadian Metal Mining Association (CMMA), the forerunner of the Mining Association of Canada. His appointment in early 1947 was a surprise, as he knew nothing about mining at a time when the industry faced serious challenges, notably a labour shortage and a gold mining industry in decline because of rising costs and a fixed gold price.
He worked cooperatively with the federal government to create the Emergency Gold Measures Mining Act, that kept the struggling gold mining industry, which supported an estimated 250,000 workers in various capacities, strong enough to survive and thrive. That Act is responsible for Canada's vibrant and globally significant gold industry today.
Wansbrough also toured Europe's displaced persons camps and brought back 6,000 skilled workers for the Canadian mining sector that was then dealing with tremendous labour shortages.
Graham Farquharson
Graham Farquharson has earned a reputation as a senior statesman of Canada's mining industry by demonstrating a commitment to integrity, fairness and technical excellence throughout his career with Strathcona Mineral Services Limited.
He is one of the industry's most prominent consultants, best known for taking on extraordinary challenges, including developing and managing Nanisivik, Canada's first mine north of the Arctic Circle and debunking the infamous Bre-X Minerals project in Indonesia that investors once believed hosted the world's largest gold deposit.
In his acceptance speech, Farquharson recalled the March 26, 1997 5:00AM (Toronto time) phone call when he confirmed his serious doubts about Bre-X, causing $6 billion in shareholder value to be wiped out in the next few days. He never lost any sleep as the "red flags" were so obvious and could not understand how the Canadian courts could have found Bre-X chief geologist John Felderhof not guilty.
Benny Hollinger (1885-1919), Sandy McIntyre (1869-1943) and John (Jack) Wilson (1872-1948) – Timmins Mine Finders/Builders
The names of Benny Hollinger (1885-1919), Sandy McIntyre (1869-1943) and John (Jack) Wilson (1872-1948) – associated with the Porcupine Gold Rush of 1909 – should be known by every student throughout Northern Ontario. Through their pluck and courage one of the richest mining camps in Canada was discovered and the city of Timmins was established. While many of the other famous gold rushes around the world, like the Klondike and California have long ago exhausted their valuable ores, the Timmins gold camp is still in production and may still be contributing to the wealth of this province well into this century.
Our provincial politicians should also remember that during the depression years of the 1930s, the gold mines of Timmins, Kirkland Lake and Red Lake played a major role in preventing Ontario from becoming bankrupt as well as providing much needed direct and indirect employment throughout the country.
During the early 1900s, the newly constructed Temiskaming and Northern Ontario Railway and ensuring Cobalt silver rush lured thousands of fortune-seekers to northern Ontario. Among them was Jack Wilson, a Toronto-born railway superintendent and veteran of the Spanish American War who led a prospecting party north into the bush near Porcupine Lake. On June 6, 1909, his team, which included Harry Preston, discovered spectacular gold on a large rounded outcrop. This "Big Dome" ultimately became the Dome operation which is still producing a century later.
News of the Dome discovery prompted Ontario-born Benny Hollinger, a former barber from Haileybury, to join the trek to the Porcupine with Alex Gillies, a professional prospector. They arrived to find the immediate area entirely staked and headed west beyond the staked claims.  In an abandoned excavation, Hollinger stripped moss from an outcrop and uncovered a wide vein splattered with visible gold. Their claims were later developed into the world-class Hollinger mine by entrepreneur Noah Timmins, another Hall of Fame inductee.
Sandy McIntyre left Scotland, where he was known as Alexander Oliphant, to seek his fortune in Canada in 1903. He became a prospector, and found his way to the Porcupine Camp with German-born partner Hans Buttner. They pulled their canoe up on the shores of Pearl Lake the same day of the Hollinger discovery and immediately started staking the nearest open ground. They too found visible gold and staked claims that were subsequently developed into the McIntyre mine. Timmins Major Tom Laughren accepted the award for the three prospectors on behalf of the City of Timmins.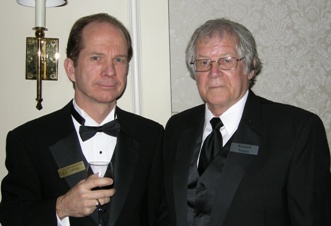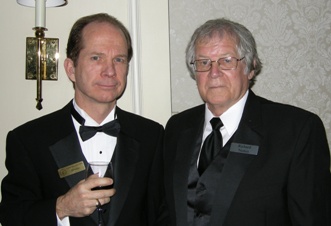 Major Laughren said, "The three certainly deserve their place in history given that the Porcupine Gold Rush of 1909 is said to be the largest gold rush ever. By 2001, the Porcupine Camp had mined over 67 million ounces of gold, compared to the 12 million ounces produced during the well-known Klondike."
Laughren continues, "Was it a vision, an intuition, or simply a gut feeling that drove these men north in search of fame and fortune fuelling the Porcupine Gold Rush?"
It was probably a combination of all three. The same combination that drives the many courageous and innovative prospectors, developers, financiers and many others that populate the entire history of Canadian mining. It is a history of guts, greed, glory and some heartbreaking loss that have made the Canadian mining sector the absolute best in the world!
With files from the Canadian Mining Hall of Fame.
Stan Sudol is a Toronto-based communications consultant.More detailed biographical info on this year's inductees can be found at www.republicofmining.com