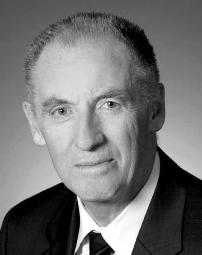 Graham Farquharson has earned a reputation as a senior statesman of Canada's mining industry by demonstrating a commitment to integrity, fairness and technical excellence throughout his career with Strathcona Mineral Services Limited, a consulting firm he created with two partners in 1974.  He is one of the industry's most prominent consultants, best known for taking on extraordinary challenges, including developing and managing Canada's first mine north of the Arctic Circle and debunking an Indonesian property once believed to host the world's largest gold deposit.
Born in Timmins, the son of a mining engineer whose first love was prospecting, Farquharson began his mining career in 1960 at a copper mine at Tilt Cove, Newfoundland, moving on to work in mines across Canada.  After graduating as a mining engineer from the University of Alberta in 1964, he spent four years in Africa, at Kilembe in Uganda and Tsumeb in Namibia. With an MBA from Queen's University, he joined the consulting firm of Watts, Griffis and McOuat before founding Strathcona. 
Soon after, he was retained by Mineral Resources International of Calgary to take a lead role in assessing the potential for the Nanisivik lead-zinc deposit on Baffin Island at 73oN.  The challenges were daunting:  bone-chilling temperatures and long dark winters, permafrost extending more than 600 metres into the earth's crust and thick sea ice preventing ship access for all but two summer months.  The prevailing view was who in their right mind would try and develop a mine 700 km north of the Arctic Circle? Yet after evaluating the project, Farquharson told the owners that he thought it could be done.  Financial support was secured in Germany and the Netherlands, along with support from the Government of Canada which wanted to encourage an economic and physical presence in the High Arctic.  Nanisivik began commercial production in 1976, and under Strathcona's management operated successfully as one of the world's lowest-cost zinc mines for more than 22 years.  A primary reason for its success was the establishment of a mining community (the last mining town built in Canada) where three languages were spoken, Inuktitut, French and English, a concept promoted by Farquharson.  Some families spent 20 years with Nanisivik as their home, despite its forbidding location on the map.
In the 1980s, he served  for three years as Chairman of the independent committee overseeing the Page-Williams mine in Ontario's Hemlo Camp until an ownership dispute was settled by the courts.  Highly regarded as an expert witness, in 1997 he led an investigation of the Busang project in Indonesia, touted by Bre-X Minerals as the single largest gold deposit discovered in human history. Strathcona's audit proved conclusively that Busang was a fraud, with placer gold introduced into core samples after drilling.  Regulators and the industry responded by establishing rigorous new guidelines governing public disclosure of technical information.   
Farquharson has served the mining industry as a distinguished lecturer, as a director of many public mining companies including Cambior, Franco-Nevada and Placer Dome, and as a pioneering advocate of policies to ensure that mining benefits flow to indigenous peoples. Since 1992, he has been Chairman and latterly the primary supporter of the Canadian Mineral Industry Education Foundation, the largest provider of university scholarships to those entering the mining industry in Canada.  In recent years Farquharson has also become a significant contributor to the Anna-Liisa Farquharson Chair in Kidney Cancer at the Princess Margaret Hospital in Toronto.