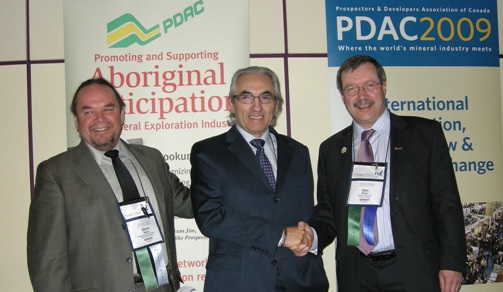 Metro Toronto Convention Centre
March 3, 2009
CHECK AGAINST DELIVERY
I want to thank the PDAC – in particular Chief Glenn Nolan and Don Bubar – for inviting me here to provide an update on the Corporate Challenge and our work with the mineral industry.
It was exactly one year ago tomorrow – March 4th, 2008 – that I attended this convention for the first time and signed an MOU with then President Patricia Dillon resulting in PDAC joining the AFN Corporate Challenge.
As I look back to that signing, I wonder who could have foreseen then that the global economy was in for the transformative change we are witnessing today?
As we gather today on this anniversary, I come in the spirit of friendship on behalf of the AFN.  Amongst my peoples these bonds are strongest when times are difficult when times are difficult for our friends.
Although, economic forecasters differ on the pace and timing of the rebound in the global economy, there is no uncertainty that prices and demand will recover and grow.
With this in mind, let us discuss our common purpose in fostering relationships of strength and common prosperity as between First Nations and the mining industry, now and for tomorrow.
As with the mining industry and other industries that have endorsed the AFN Corporate Challenge, you may ask yourself, "What is the purpose of the Corporate Challenge"?
Simply stated, First Nations believe the key to our renewal and rejuvenation as the First Canadians is grounded in education and economic self- sufficiency.
Our objective in partnering with your Association and others has been the alleviation of First Nations' poverty and the building of hope in our peoples.
We believe that irregardless of today's grim economic outlook, First Nations need to sustain our recent momentum in business development, so we can best participate in the next commodities up-cycle.
In order to build and mature the relationship with AFN, PDAC and its members should focus on 4 pillars of our common interest:
1. employment creation for First Nations;
2. work with us to hold governments accountable to our common interests;
3. demanding that First Nations be given a fair share of the resource revenues being collected by government; and
4.  creating with us,  developments which are economic and environmentally sustainable.
In the year since we last met, PDAC has earned our applause and respect for the vast amount of time and effort that has gone into the preparation of its Framework for Responsible Exploration. I believe it has gone through at least a dozen revisions.
The AFN and a number of Chiefs from across Canada participated in one of the PDAC focus group sessions this past September here in Toronto.
The First Nations participants believe better relations between our communities and mining companies can help ease the approvals processes for all stages of project development, while avoiding or diffusing tension with the local communities.
I know that one of those Chiefs at the focus group was Roland Willson of West Moberly First Nation in northern BC. Chief Willson was very impressed with the detailed principles and guidelines in your framework, and noted he would like to see such due diligence being practiced back home.
This past summer the West Moberly First Nation protested the planned building of a dam by BC Hydro that would flood over 100 square kilometers of their traditional territory.
And just two months ago — in December — Chief Willson had to put a junior mining company on notice that his community will pursue legal action if they continue to pursue development on their land.
The First Coal Company of Vancouver had gone ahead and cleared 17 hectares of land, which happens to be in the middle of an established endangered caribou habitat.
Chief Willson said this, and I quote: "We won't apologize for protecting the caribou, and our rights, for future generations of our people and our Nation. My advice to those who were thinking of betting on First Coal's success is this: look elsewhere."
Chief Willson's story is a cautionary tale worthy of sharing as it is conflicts of this type, that the collaborative relationships which can emerge if a company follows the PDAC principles should avoid.
There are many companies in Canada who can benefit from carefully following your Framework for Responsible Exploration. I commend you for this work.
No one is suggesting that all circumstances and situations can be resolved between mining companies and First Nations.
However the simple step of identifying sensitivities and approaching the circumstances of First Nations with respect can reap gigantic success, if trust between the operator and First Nations leadership is the by-product.
As we look forward to the next anniversary of the PDAC-AFN relationship, I am mindful that despite our best intentions to build and strengthen our bonds, we do so in a time of great challenge and headwind.
I noted last week's headlines on the near term forecast for the mining industry. These forecasts spoke of upwards of 30% of all exploration companies being forced out of business, and 90% of companies expecting a retraction in spending.
I am mindful of the dire consequences these statistics speak to for many of PDACs members, and I wish to note that they have impact upon my peoples as well.
As we gather next year, let it be said then that when slow-downs occurred in 2009, that PDAC members were sensitive to the delicate status of many of the First Nations businesses they have contracted with, and that care is taken not to destroy these fledgling industries during this time of duress.
Let it also be said that care was taken to ensure First Nations employees, the most vulnerable of your workers and most directly impacted by your development, were given priority status to keep them employed and engaged.
Finally, in many of the relations where tensions have frayed in the light of proposed development, let us revisit those plans in this time of slowdown to see how and when they can be revived when the market turns.
As I noted earlier, First Nations are strong allies when treated with respect and understanding. Let us build on our common bonds during this period of duress so when the global economy rebounds, which it will, First Nations also rise economically with the next commodities tide.
Before closing, I want to invite you to attend our Inter-Nation Trade and Economic Summit which takes place next week in this very building. The PDAC is one of our generous corporate sponsors. In fact, we will be honouring our Corporate Challenge partners one week from tonight at a Gala Dinner.
I also want to point out that we will be having a full workshop on consultation and accommodation at our Summit next week.
We will also be releasing a State of the First Nations Economy paper. It will be posted on our website, and I hope you take the time to read it.
Again, I want to thank you for the kind invitation to be here and I look forward to any questions later on.
Meegwetch!