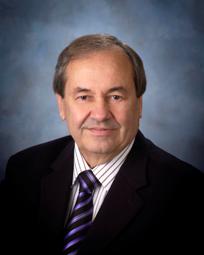 This statement was released on February 11, 2009
I want to take an opportunity this evening to speak directly to the people of Greater Sudbury.
As Mayor of this great city, both here at home and wherever I have had the opportunity to travel, I have always said that, "if you want to know anything about mining, you come to Sudbury!"  Mining built this community and, though we have made strong advances in economic diversification, mining remains at the heart of our local economy.
On Monday of this week, 686 of our fellow citizens lost their jobs with Xstrata Nickel, and we were reminded once again that being the Mining Capital of Canada means not only benefiting from the boom cycles in metal prices, it means dealing with the bust cycles as well.  This week's news is a devastating blow to this city, and it will have ripple effects across many sectors.  Just six to twelve months ago, these same employees were spreading the good fortune of their nickel bonuses throughout the community, creating strong demand for housing, cars, recreational equipment and entertainment.  Now their financial pain will also be strongly felt.
Monday's announcement was not entirely unexpected.  There has been speculation for months about how long Xstrata would continue to mine their higher cost properties with Nickel prices hovering at or below five dollars a pound.  We had seen some job losses at FNX, First Nickel and many of the mining contracting and supply companies throughout the Sudbury Basin.  Despite this, we hoped that we might somehow avoid being caught up in the global recession and that demand for Nickel would return more quickly and with it a stability for our companies.
But the tsunami that is sweeping economies across the world did arrive in Greater Sudbury this week and it has hit us hard:  Our city has not seen this scale of layoff in a generation.  These job losses were immediate and permanent, and implemented with no advance notice to union or community leaders.  It has been explained to me that the company had to act in this fashion because of its obligations to shareholders and stock exchange regulators.  All I can say is that there is something fundamentally wrong with a system that places more value on a corporation's relations with nameless hedge fund managers and investment bankers than it does on its relations with the men and women who have poured blood, sweat and tears into building a profitable and successful company.
Over the past three days, there has been much discussion about the commitment Xstrata made to Industry Canada when the government approved its takeover of Falconbridge.  Many people in this city, including Xstrata employees, felt that this agreement would prevent mass lay-offs until at least July.  We now know that the company viewed this commitment as null and void because the global economic downturn amounted to "circumstances beyond Xstrata's control", which they believe allows them to use an "out clause" in the agreement. 
Minister Clement, whom I spoke to on Monday morning, indicated that the government was not prepared to pursue enforcement or punitive action on this issue and was satisfied that he now had a legally binding agreement with the company for investments that would secure jobs in Sudbury for the long term.  While I am extremely concerned about the precedent this sets for other such agreements, and I am critical that Industry Canada did not secure a more concrete agreement in exchange for our publicly-owned natural resources at the time of purchase, I do not believe that our city can pursue this issue.
Instead, our focus must shift to helping the affected employees and their families, and we must also look for ways to advance our community, even in the midst of crisis.
Over the past few months, my office has been working in concert with the Greater Sudbury Development Corporation and its Chair, Guy Labine, on a number of initiatives to track the effects of the recession in our city and to lay the ground work for action in case we became faced with the kind of reality we see this week.
The GSDC is leading the review of the community's economic strategic plan.   On February 25th, community stakeholders will come together in order to review our progress, assess the new global economic environment and identify future opportunities to ensure that the community forges ahead with a strong long-term economic vision.  
Last month, the GSDC passed a motion to support the development of a Community Adjustment Program to address the current economic challenges being experienced with displaced workers and to assist the City to anticipate, respond to and manage changes in the economy.  This afternoon, we received support from the Ministry of Training Colleges and Universities to proceed with this initiative. 
Ladies and Gentlemen, we are a creative and resilient city.  Time after time, I have seen this community face dramatic economic adversity and pull together to move ourselves ahead, to position Greater Sudbury to be stronger and more successful than during the previous boom.  Today we are challenged once again, and we know that our situation may become worse before it gets better.  But we also know that we are up to this challenge.  We will face it head on and look for opportunities to grow and to prosper in the new economy.
We will have some powerful help in these efforts.  I have spoken with our MPs, Glenn Thibeault and Claude Gravelle, as well as MPP Frances Gelinas and Minister Rick Bartolucci.  They are tremendous allies in Ottawa and at Queen's Park.  Minister Tony Clement has already initiated meetings to discuss how his office and, more specifically, FedNor can assist.  I have also had a personal offer of assistance from the Federal Liberal Leader, Michael Ignatieff.
As Mayor and Council, it is our job to lead this effort.  It is our duty to call upon every citizen and every organization to work together to not only get us through this challenge, but to find a way to build a stronger, more diversified, and more resilient, City of Greater Sudbury.