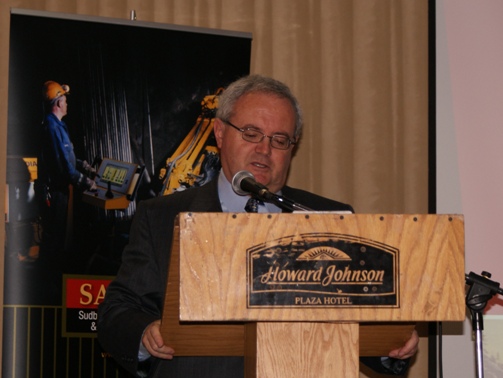 Sudbury Area Mining Supply and Services Association (SAMSSA) Speech
 
November 26, 2008
Sudbury, Ontario
CHECK AGAINST DELIVERY
INTRODUCTION
While the mining sector has seen unprecedented growth, driven by high commodity prices, it is not immune to the current economic climate.
No one understands that better than the mining community in Sudbury.
Accepting the reality of boom and bust cycles and dealing with them over the course of a century has made Sudbury's mining industry competitive and a cut above the rest.
The minerals industry knows it cannot depend solely on high commodity prices to drive business. What it can and does depend on are the perseverance and innovation that characterize the industry, at all times, good and bad.
It is the strength developed during the lean times that gives industry the efficiencies that lead to profitability during the good times.
Commodities demand has definitely slowed, but it has not disappeared.
Growth trends may recede for a while but they will not grind to a halt. 
Demand from growing countries like China and India will not evaporate.  China's GDP is still above 7 per cent.  Chinese demand for oil and most key commodities is still growing.
And when you consider that China accounts for well over 50 per cent of the world's construction, that coal-fired power plants are going up at a rate of one per week, and that oil demand is expected to increase by 50 per cent in the next 10 or so years, it is apparent that China has some clout in the global commodities markets.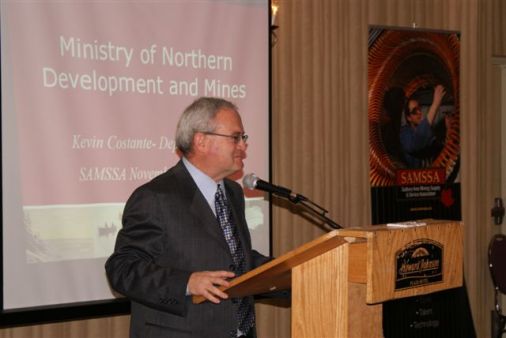 The long-term prospects for commodities remain very strong. Even diminished American and European markets still consume vast amounts of commodities.
And, looking down the road, even the greenest of futures cannot be achieved without metals:
 There are at least 37 mineral products in computers;
 The cars of the future may not run on gasoline but they will contain a lot of mineral products;
 Wind generators, solar panels and batteries need metals;
 The growing number of nuclear power plants will need more uranium.
Am I confident in the future of the mineral sector in Ontario and particularly Northeastern Ontario? In a word, yes.
NORTHEASTERN ONTARIO – A MINING HOTBED
Mining continues to be a pillar of Ontario's economy.
In 2007, the mining industry produced an estimated $10.7 billion worth of minerals, an increase of more than $1 billion from the previous record level of $9.5 billion in 2006.
The industry creates, directly and indirectly, more than 90,000 (23,000 directly) jobs.
People across the province are employed in mineral exploration, production and the mining equipment and services sector.
In Northeastern Ontario, there are more than 400 active exploration programs being conducted by prospectors, junior and major exploration companies searching for gold, copper, nickel, zinc, uranium, molybdenum, platinum group elements and diamonds in the region.
There were 164,000 active claim units in Northeastern Ontario at the end of 2007, representing approximately 53 per cent of Ontario's total, which hit a record level of 308,000 active claim units.
Northeastern Ontario hosts 14 nickel-copper mines, six gold mines, one copper-zinc mine, and Ontario's first diamond mine, De Beers Canada's Victor mine.
The region is truly a hotbed of mineral development activity.  While we expect some fallback in these numbers, the fundamentals that drove the last boom cycle remain sound in this region.
A significant part of the mineral sector equation is the critical mass mining supply and services expertise that is flourishing throughout the region.
It is estimated that there are about 420 mining equipment or mining services companies in Northern Ontario catering to every facet of the industry from exploration right on through to mine closure and rehabilitation.
More money is spent within a 500-kilometer radius of Sudbury on underground hard rock mining supplies than anywhere else in Canada, the United States or Chile.
Two years ago a SAMSSA study indicated that about 17,000 people are directly employed in the supply and service industries in Sudbury, North Bay and to a lesser extent Timmins, compared to fewer than 10,000 working in the extraction, smelting and refining sectors.
It is a hotbed of innovation that provides supplies and services to the mining industry regionally, nationally and, more and more, internationally.
Furthermore, the region also hosts a significant and impressive repository of education and research facilities – Laurentian University, Cambrian College, MIRARCO, NORCAT, CEMI – all geared to creating a sustainable mining industry in Ontario.
The provincial government seeks to use this exceptional activity and growth, along with our rich mineral endowment and our knowledge and expertise in all areas of mining to create sustainable growth.
MNDM's ROLE
Headquartered here in Sudbury, the Ministry of Northern Development and Mines is the only regional ministry in the Ontario government.
MNDM consists of two divisions. The Northern Development Division, which delivers provincial government programs and services across Northern Ontario that help our communities prosper and grow.
NDD works to promote northern economic development with tools like Northern Ontario Heritage Fund Corporation and the Northern Highways Program (ie four-laning of Highway 69 to Parry Sound).
NDD is also developing a Northern Growth Plan that will ensure a strategic approach to provincial policies and investments in the North over the next 25 to 30 years.   
The Mines and Minerals Division supports responsible land use management and mineral resource development by administration of the Mining Act , providing public geoscience information and providing client services across Ontario
MNDM's role is to work with industry and all our stakeholders to ensure that minerals sector continues to thrive and ensure our investment climate is strong and our provincial minerals sector has the foundations to succeed.
The cyclical nature of the industry is understood by the provincial government. That is why our theme today is "Working together boom and bust."
Markets dictate that there will be peaks and valleys. Our view is that if we are beholden to global markets then we should be a global player – a great global player.
To that end, the government has a vision of the supply and services sector being a key part of building a sustainable mining industry.  For example, if we can sell mining equipment and services globally, it may help cushion the boom and bust cycle.
OMICC AND MDS IN ACTION
I'd like to say a few words about OMICC and the origin of our Mineral Development Strategy.  Established in November 2003, the Ontario Mineral Industry Cluster Council, of which SAMSSA is a standing member, has been providing the ministry with excellent direction towards sustainable mineral development.
It also continues to work on key mineral development issues such as the mapping of traditional Aboriginal lands and how best advance resource benefit sharing.
One of the first recommendations of OMICC was the need for a Mineral Development Strategy for the province.
Launched in 2005, the Mineral Development Strategy became our road map for building a sustainable mining industry.
Its four key strategic objectives are:
 Promoting long-term sustainability and global competitiveness;
 Supporting modern, safe and environmentally sound exploration and mining;
 Clarifying and modernizing mineral resource stewardship;
 Promoting community development and opportunities for all.
MNDM's role is to work with industry and all our stakeholders to ensure that minerals sector continues to thrive and ensure our investment climate is strong and our provincial minerals sector has the foundations to succeed.
The strategy includes a number of action items under each of these objectives. They include:
 An original investment of $15 million over three years in the Far North Geological Mapping Program;
 A 2008 Budget measure providing for an additional $20 million investment over the next four years towards geological mapping which will help Ontario's mineral exploration sector identify areas of economic opportunity;
 Launching a one-window approach to provide access to electronic geoscience information (GeologyOntario.com);
 Committing, since 2003, almost $90 million to the Abandoned Mines Rehabilitation Program;
 Investing $10 million to establish the Centre for Excellence in Mining Innovation (CEMI) on the campus of Laurentian University in Sudbury;
 Initiating public discussions on how to develop mining-related consultation guidelines as part of our commitment to meeting our duty to consult with Aboriginal communities;
 We are currently consulting on how best to modernize Ontario's Mining Act.
 And last but not least, marketing Ontario's mineral sector advantages.
MARKETING OUR MINING SECTOR ADVANTAGES
Due to the productivity improvements in the mining sector, we expect the real growth will not be in expanding mining activity but more in growing the supply and service industry.
The supply and service industry is necessarily oriented to global markets. Our goal is to work with you to create a robust mining supply and services sector – a sector that is strongly oriented to export markets.
By supplying the world with your services and products, you will advance the development of Ontario's vibrant mineral cluster as well as the sustainability of our mining industry.
As part of MDS we will continue to promote Northern Ontario's competitive advantages to attract new business and promote innovation and diversification. 
In recent years, MNDM in partnership with the Ministry of Economic Development and Trade (now the Ministry of International Trade and Investment) have organized 25 out-of-country/province trade and investment events in support of Ontario's mining equipment and services sector. 
These trade shows and missions included over 135 partner companies and northern municipalities marketing their products and services to the international mining community.
Events took place in major mining regions of the world including South Africa, Chile, Peru, Brazil, Mexico, Kazakhstan, Alberta and the U.S.A.
MNDM and the cities of Greater Sudbury, North Bay and Timmins have also hosted numerous incoming delegations from South Africa, the Middle East, Russia, Brazil, Chile and Peru.
MNDM each year plays host to a wide variety of trade and investment activities at the annual Prospectors and Developers Convention in Toronto.
We are looking forward to working with our partners in a new initiative from the Conference Board of Canada – the Centre for the commercialization of Mining Technology and Services.
We are hopeful that it will have excellent potential for marketing and promoting Ontario's mining sector.
WORKING WITH SAMSSA
I would like to commend SAMSSA for all the excellent work it is doing to maximize members' domestic and global sales opportunities for its membership.
We've seen SAMSSA in action at trade shows like Minexpo 2008 in Las Vegas promoting members' products and services.
In our view, SAMSSA is working effectively to build capacity and increasing international recognition and capabilities of its members.
In doing so, it also creating value-added relationships among members – developing the synergies that will see its members mutually reinforce and enhance each other's competitive advantage envisioned in the classic cluster scenario.
SAMSSA is living by the mantra: Develop locally sell globally.
From what we know, there is no shortage of local innovative products and services being developed by SAMSSA members to make mining efficient, more profitable and safer.
SAMSSA has a lot to work with. And we look forward to working with SAMSSA as well as partners like Export Canada, Fednor, and the cities of Timmins, North Bay and Greater Sudbury in marketing the mining services and supply sector to the world.
With that, I'll conclude my remarks today.
Thank you for you kind attention.
I look forward to answering any questions you have about MNDM and our role in mineral development.
END