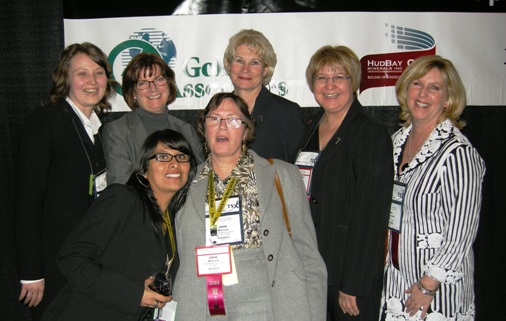 Small groups, organizations and networks of women related to the mining industry have existed for decades all over the world.  Until recently, there has been little or no interaction between any of them. That all changed in the summer of 2007 when a major fund-raising effort captured the imagination of mining industry people across the country and beyond.
The Women in Mining (WIM) – Toronto Branch decided to form a team for the two-day, 60-km Weekend to End Breast Cancer, an annual event benefiting the Princess Margaret Hospital Foundation, one of the top five comprehensive cancer research centres in the world. 
During lunch in June after one of the many training walks, one of the team suggested that a goal of $200,000 and taking first place in the overall fund-raising was "not only reasonable but easily achievable" given the links that each of the members had and the size of the industry.  This was quite a feat considering the event had over 5,300 walkers, 1,000 volunteers and raised $17.3 million that year.
The goal was achieved through extensive communication and networking.  Links were established with branches across Canada, the US and around the world.  Everyone was committed to the cause as it represented a very loud voice for women in mining and also showed just how much the mining industry cared.  Over 399 donations came in, including money from 66 companies involved in mining, engineering, law or finance—a virtual Who's Who of large and small mining firms.  The WIM team was recognized for its efforts by Canadian Mining Hall of Fame chair Don Worth during his organization's annual dinner in Toronto in January 2008.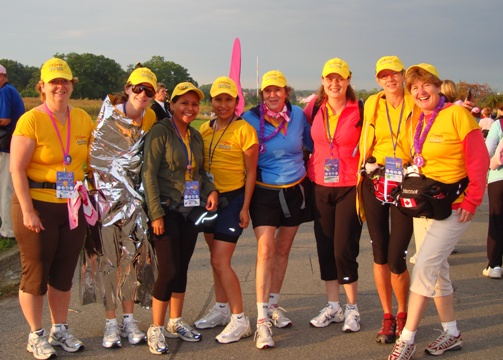 The walk was a major catalyst for other opportunities: increasing membership across all Branches; seeking out, discovering and communicating with other WIM groups around the world; launching WIM networks in other locations, across Canada and in such places as Moscow, Brazil, Argentina, Chile and Peru. 
The Inaugural International WIM Reception at the PDAC convention in March 2008 drew a crowd of 450.  Golder Associates shared half its double booth at the PDAC trade show with WIM, giving the group a highly coveted base for publicizing its reception.
The popularity of this reception led to other "copy-cat" WIM receptions, one at the CIM AGM in Edmonton in early May, and another in Vancouver during Mining Week in May, and an upcoming one for the giant MINExpo show in Las Vegas in September 2008.
Fuelled by the momentum created by their Toronto "sisters", the WIM – Vancouver Branch decided to set up a national team for the CIBC Run for the Cure 2007, raising $32,000, planning to do it again this October. WIM – Toronto Branch participated again in 2008 in the Weekend to End Breast Cancer, and raised over $57,000.  They have already started recruiting for next year.
Women involved in different facets of the mining business are now finding out about each other—colleagues and counterparts of the female persuasion who might have a different take on workplace issues and ethics than males. The WIM-Toronto Branch administrates a website www.women-in-mining.com which covers the whole of Canada and provides links to US and overseas groups.  There is a quarterly newsletter and a Facebook site aimed at students.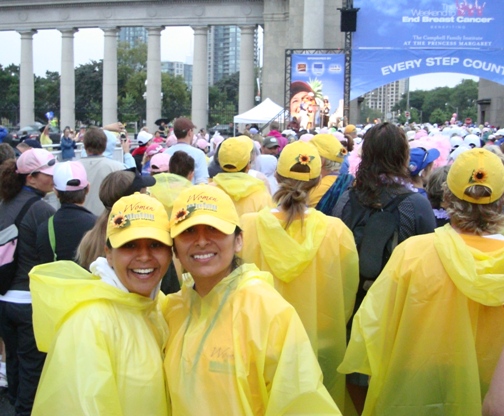 The monthly luncheons offer tremendous mentoring opportunities through learning from the experiences of others. Presentations aid in professional development and keeping up with the buzz – a kind of old and young girls' club. The level of enthusiasm, empowerment and motivation to debate and try new ideas has shot up enormously.
Now for the real news. The Toronto and Vancouver WIM Branches will be joining forces this year to keep up the fundraising momentum by attempting to raise $250,000 for the Townships Project. The decade-old charitable organization, also known as Lend to End (Poverty), was founded by former banker Martha Deacon. It aims to put small amounts of credit—micro-loans of $100 or more—in the hands of the poorest people of South Africa, giving them a means of starting up or expanding their own small businesses to become self-supporting. Economic stability in South Africa is seen as the key for economic and political stability in sub-Saharan Africa. The Township Project helps by providing seed money to launch microfinance institutions and train their personnel. These MFIs can then use money provided by others such as NGOs, banks and government bodies, to provide and track loans locally. (See www.thetownshipsproject.org.)
The monies raised will be enough to improve the lives of 10,000 of South Africa's poorest people. WIM, under co-chairs Beth Kirkwood and Joyce Misoi, Consultant to Tiomin Resources and President of the Canada-Kenya Chamber of Commerce, will be approaching companies involved in the mining industry in the coming weeks, asking for their support in this new initiative.