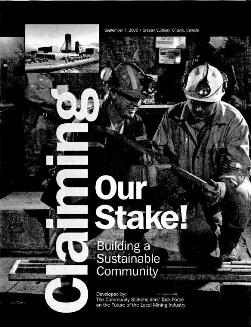 IV: COMPANY & GOVERMENT INVESTMENTS IN LOCAL BUSINESSES
Maximizing the Potential of our Local Cluster
More money is spent within a 500-kilometer radius of Sudbury on underground hardrock mining supplies than anywhere else in Canada, the U.S, or Chile. In 2005, lnco spent $374 million on local supplies and services and $228 million on capital spending, Within the Sudbury area there are more than 300 companies that form the basis for the Greater Sudbury mining supply and services (MS&S) cluster. These companies range from dozens of small specialty shops that have created niche markets for themselves, to firms specializing in project engineering and management, equipment design and manufacture, software development and other research.
Employing over 8,000 people, they have the potential to create a significant number of new jobs over the next 10 years, expand exports and develop as a technical leader for the mining industry. A recent Institute for Norfhern Ontario Research and Development (INORD) survey conducted for FedNor at Laurentian University indicates that innovation is extremely high among the cluster of MS&S companies in Northeastern Ontario. The study revealed that 83 out of 90 of the firms surveyed indicated they were upgrading products and services and 72 out of 93 had introduced a new product or service in the preceding three years.
In 1991, the federal government commissioned a study of Canada's trade competitiveness by Harvard Professor Michael Porter who had identified an advanced supply cluster in Sudbury's nickel industry and recommended its support. Professor Porter is one of the world's most sought-after business strategists on the competitiveness and economic development of nations and regions. In 1990, his book, The Competitive Advantage of Nations introduced a new cluster theory of how nations compete and their sources of economic prosperity. Clusters are concentrations of related companies and service providers present in a specific city or region.
Many economists believe clusters are the future key to wealth creation and the establishment
of high-paying jobs, primarily through the global export of goods and services. They also attract foreign investment, enhance international competitiveness, industrial productivity and are a significant engine for economic growth. Canada has long been a world leader in underground mining, with the largest underground mining operations located in Sudbury. This concentration of specialized knowledge is internationally recognized.
California's Silicon Valley is the first and most well-known high-tech cluster in the world. Located just south of Sun Francisco, this is one of the largest concentrations of semiconductor and computer-related industries in the world. It is the home base of Hewlet-Packard, Apple Computer, Intel, Adobe Systems, Google, Yahoo, and numerous research institutes, and some of the best engineering schools in the United States including Stanford and Carnegie Mellon.
It is widely accepted that this cluster of digital expertise is a tremendous economic engine of the high-tech global economy and a generator of wealth for millions. Another example of a natural resource cluster is the oil and gas cluster in Houston, Texas. This concentration of suppliers, customers, skilled workers and specialists in university departments, is a great engine of innovation. Houston is really the centre of almost all of the innovation in the oil and gas technologies around the world, even though much of the drilling and most of the reserves exist outside of the city, Innovation grows out of this concentration like a critical mass effect creating information flows, incentives, spin-offs, and new companies.
The three Canadian cities with the largest MS&S sectors are Toronto, Vancouver and Sudbury. By far, the most concentrated and the most diverse cluster is Sudbury. There is no comparable concentration or competition anywhere in North America for this community's mining supply and services expertise. However, there are three other global 'mining metropolises' that have the ability to compete with Sudbury. Kalgoorlie, located in Western Australia; Antofogasta in Northern Chile; and Johannesburg, South Africa, are all developing mining supply and services clusters that are in direct competition with Sudbury. All these competitors are aggressively marketing themselves as global centres of mining supply and services excellence and their national governments are investing in strategic educational and research infrastructure.
Research facilities and post-secondary institutions are among some of the key factors that are both widely believed by researchers to promote cluster growth and are directly controlled by public policy. The Greater Sudbury Development Corporation has designated the Sudbury area mining supply and services sector as one of the key drivers of the Basin's economy and has provided seed funding for a variety of efforts. In addition, the Sudbury-North Bay-Timmins Corridor contains over 400 MS&S companies who are recognized globally as technological leaders and experts in underground mining.
WHAT IS REQUIRED?
• Treat the local supply and service sector in a fair and equitable manner so
that local businesses are given the opportunity to prosper
• Support the innovative technologies of the local mining supply and service
companies who are exporting internationally
Commercializing Research and Ideas
In 2001, the UN's index of technological advancement placed Finland as the most technologically advanced country in the world. The Finns have successfully integrated their northern regions into a dynamic national economy that ensures a high standard of living. One of the main reasons for this incredible economic success is that the Finns use universities and colleges and their research potential as pivotal engines of regional development.
One of the best examples of this strategy is the University of Oulu. Oulu is located in Northern Finland, approximately 160 kilometres south of the Arctic Circle on the Gulf of Bothnia. The city is the commercial and administrative centre for central and northern Finland and has a population of 124,000. When the University of Oulu was founded, one of the primary goals was to pursue instruction and research connected mainly with the development of the area's natural resources. In addition, numerous national funded research centres were established and a technology park was built adjacent to the university. With more than 2,000 companies and 4,500-plus employees, the technology park has helped turn Oulu into a global wireless and electronics powerhouse.
A vital part of the region's supply and service sector is Cambrian College's innovative Northern Centre for Advanced Technology. NORCAT, which was created in 1995, is a non-profit corporation that leases its own mine from Falconbridge. By providing equipment, facilities and expertise to companies and entrepreneurs in the mining and supply and services sector, NORCAT is integrally involved in the development and testing of new technologies, equipment, prototypes and processes. It also provides specialized training to the mining sector. NORCAT has won several NASA and Canadian Space Agency contracts to develop the drilling technology for the moon and Mars space missions. NORCAT has also established a very successful technology park that was modeled after the University of Oulu. This facility has supported the establishment of over 40 companies in the last 10 years and added over 500 jobs to the economy of Northern Ontario through its incubation of new technology companies largely serving the mineral industry. NORCAT is currently leading an initiative of the Ontario Mineral Industry Cluster Council to expand the technology park.
WHAT IS REQUIRED?
• Provide government funding to expand Cambrian College's NORCAT
Technology Park
Manufacture Value-added Products
Last May, lnco confirmed plans to build a new US$63 million plant in Dalian, China for the production of utility nickel, a refined form of nickel product for the special needs of the stainless steel industry. In July, 2005 another plant – lnco Advanced Technology Materials – to manufacture nickel foam, which is used primarily as a component in rechargeable batteries, was opened in Dalian.
Rechargeable batteries using nickel foam are found in many consumer items and are the leading technology used in hybrid automobiles. The company has grown to become the leading supplier of nickel foam. In total, the company has built five processing plants in China over the past decade. There is an opportunity for increasing our local capacity to research and manufacture value-added products from the rich natural resources of the Sudbury Basin.
WHAT IS REQUIRED?
• Establish the local capacity and research capability to manufacture valueadded
products
V: INVESTMENTS IN A SUSTAINABLE COMMUNITY
Building a Sustainable Infrastructure and Economy
The City of Greater Sudbury is the largest geographic municipality in Ontario encompassing 3,300 square kilometers and overseeing 2,900 lane kilometers of paved roads. Although the municipality is solely responsible for maintaining the physical infrastructure, very little corporate tax revenues come back to municipalities. A 2002 OMA study on the province's mining sector indicates that almost 50% of the tax revenues go to the federal level, 35% go to the provincial government while only 16% stays in the local resource municipalities. As their contribution to municipal revenues has fallen over time, the mining companies increased their use of public transportation infrastructure and reduced their investment in private transportation infrastructure.
Twenty-years ago, most ore was transported throughout the Sudbury Basin by railroads that were maintained by the mining companies. Today ore is predominately transported by truck, causing rapid and costly deterioration of the road infrastructure that was not designed for heavy industrial use. The local mining sector in Sudbury used to supply 25% of the community's tax base. It has shrunk to 6%. Furthermore, property taxes from local mining companies continue to shrink as companies dismantle unused surface buildings. The cit\/s infrastructure will need massive investments to ensure the development of the next generation of mines and processing facilities can be built in a timely and effective manner.
In Northern Quebec the Raglan nickel-copper mine is part of Falconbridge's Integrated Nickel Operations. The Raglan Agreement includes a profit-sharing program with the Inuit population of the Nunavik. In April 2006 Falconbridge paid out $9.3 million- a year's worth of royalties. The Raglan operations include three underground mines, one open pit, a mill and employs about 500 people, as well as 250 on contract.
Conversely, Falconbridge's Sudbury operations employ about 1,500 people in three underground mines, a mill and a smelter. In 2006, Falconbridge paid almost $4 million to the City of Greater Sudbury as property taxes.
WHAT IS REQUIRED?
• Develop a corporate tax policy and industrial property assessment system
for the mining sector that is more equitable to municipalities
A Healthy Environment
There is no community in Canada that has endured as much environmental damage over the past century of mining then Sudbury. During the early 1980s, Sudbury and Inco's giant superstack at the Copper Cliff smelter were a media focal point. Since 1986, lnco has invested $845 million to reduce their SO2 emissions at their Sudbury operations from over 700,000 tonnes per year to below the current regulatory limit of 265,000 tonnes per year dramatically improving the region's air quality. The company is spending an additional $1 15 million on a fluid bed roaster project that will further reduce emissions by 34 per cent by 2006 to 175,000 tonnes per year. The community experiences a much lower level of air pollution than Toronto or Hamilton.
The community started a massive Revegetation Program in 1978 that has transformed the region's bleak moonscape terrain into an environmental success story. Over 11 million trees have been planted and the community has received many international awards for its restoration successes. Sudbury has 330 urban lakes situated within the municipal boundaries, a number unmatched anywhere in the country. Unique environmental initiatives helped restore many previously damaged lakes and current monitoring programs ensure their long-term protection.
In June 2006, lnco continued its commitment to environmental stewardship in Sudbury by announcing a $300,000 donation for Laurentian University's Living with Lakes Centre in Sudbury. The Living with Lakes Centre will provide a new home for the growing Cooperative Freshwater Ecology Unit, which has been internationally recognized for its research in freshwater restoration.
WHAT IS REQUIRED?
• Fund region-wide environmental reclamation, rehabilitation and regreening
Programs
• Mining companies to make community health and safety a priority
Community Trust Fund
Over the years many worthy causes have always been able to count on significant corporate donations from both lnco and Falconbridge, lnco alone has been a significant contributor to numerous local projects. Today, lnco spends in excess of $400,000 annually on community sponsorships and donations. This does not including larger investments such as the $500,000 the company recently donated to the Northern Ontario School of Medicine or $2 million to the new Sudbury Regional Hospital.
Since 1972 lnco has donated more than $52 million to the Sudbury community including Science North, Dynamic Earth, the Northern Ontario School of Medicine, the Sudbury Regional Hospital, Northeastern Ontario Cancer Treatment Center, Sudbury Neutrino Observatory and lnco scholarships, to name a few. From a community perspective these donations were welcomed as a re-investment of the mineral wealth back into the community from which it came. In 2005, lnco and Falconbridge combined profits were projected to reach almost $2 billion.
An annual investment of just 1 % of these profits would result in a $20 million investment in this year alone. A community trust fund could be established in which a small share of corporate profits or a royalty fee for every pound of ore produced would be invested. A Board of representatives from both the community and the companies could oversee the fund.
WHAT IS REQUIRED?
• Invest a percentage of the mining company's profits and/or a royalty fee into a Community Trust Fund and establish a board of representatives to oversee investments in local initiatives
In Closing
There is no doubt that Sudbury is among the top ten most significant mining districts in the world and contains the second largest strategic reserves of nickel known to mankind, Most industry analysts and mining experts confirm that the ore reserves of this near-trillion dollar mining camp will last for another century.
An innovative, rapidly growing cluster of mining supply and service companies has developed alongside the integrated mining operations of lnco Limited and the former Falconbridge Limited. This mining supply and services cluster, which is exporting its knowledge around the world, has established the City of Greater Sudbury as the undisputed mining capital of Canada, and is one of the city's primary engines for future economic growth and prosperity. In addition, there is a high concentration of mining research and post-secondary educational programs directly linked to the mining sector.
There is concern in the community regarding the corporate responsibility of the two new owners of Falconbridge and Inco. However, there are also tremendous opportunities to define the relationship between the community and the new owners. As Canada's key mining city, we expect to partner with both the new owners and the two senior levels of government to further cement the community's reputation as a global centre of hardrock mining expertise.
The City of Greater Sudbury looks forward to collaborating with the new owners and other levels of government to ensure the community's vision to become the world's premiere high-tech, mining centre of the 21″ century – the Silicon Valley of the mining sector – are met and that the next generation of young people will be able to stay and take part in the enormous prosperity these initiatives will bring.
Acknowledgements
Claiming our Stake! reflects the wisdom and vision of a broad cross-section of the community that includes the Greater Sudbury Development Corporation, the Chamber of Commerce, labour representatives, elected officials, business leaders, researchers, post-secondary institutes and former industry executives.
With such an extensive range of perspectives it can be difficult to reach consensus. Yet
when people come together with a shared interest in working together for the greater good of the community they can achieve a great deal. Claiming our stake! is the result of just such a challenge. It provides a framework for our communications agenda as it relates to the future of the local mining industry.
It seeks to identify the needs, the expectations and the priorities of the community in building a more sustainable future. Thanks to everyone who took the time to share their insights and invest their knowledge into this document. Special thanks to those individuals who participated on the Community Stakeholders' Task Force on the Future of the Local Mining Industry. They include:
Michael Atkins, Publisher, Laurentian Publishing Inc
Greg Baiden, Canadian Research Chair in Robotics & Mine Automation
Jose Blanco, Former lnco Executive
David Courtemanche, Mayor, City of Greater Sudbury
Dick DeStefano, Director, Sudbury Area Mining Supply & Services Association
John Gammon, Director of Mining Initiatives, Laurentian University
Jim Grassby, Fonner lnco Executive
Rick Gryils, President, Mine Mill Local 598 C.A.W.
Narasim Katary, Fonner Director, Ontario Municipal Board
Risto Laamanen, CEO, Wallbridge Mining Company Ltd
Guy Labine, Chair, Greater Sudbury Development Corporation
Debbi Nicholson, President, Greater Sudbury Chamber of Commerce
Additional input came from a broader group of people through phone interviews and
e-mail. Thanks to all who lent their time and insights in the drafting of this document.
Research, interviews and writing services provided by: Stan Sudol, an executive speechwriter and communications consultant who writes extensively on mining issues.