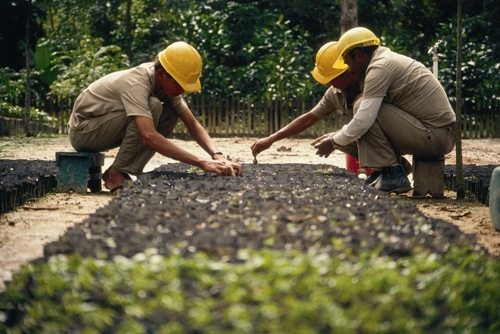 The International Council on Mining and Metals (ICMM) is a CEO-led industry group that addresses key priorities and emerging issues within the minerals sector. The following article came from the ICMM newsletter.
Brazil-based mining giant Vale is building sustainability into its long-term success. Vale Director of International Public Affairs Renato Amorim offers a snapshot of recent developments.
Over the past few years Vale has undergone a major process of expansion and diversification to become the second largest company in the mining and metals sector. Its approach to sustainability is evolving in parallel with this expansion, guided by the company's mission to 'transform mineral resources into sustainable development and prosperity'.
Vale's 2006 acquisition of Inco for US$18.9 billion represented the largest ever made by a Brazilian company. Expansion has continued apace, and the company is now responsible for almost one-fifth of Brazil's trade balance, as well as being world number two in the mining and metals sector. Such rapid growth has brought growing awareness of social and environmental issues.
As we recognized in our 2006 sustainability report, "the challenges are increasingly great for a company that is on an expanding path both geographically and in terms of its products". There is always room for improvement in this area, and our commitment is driven from the top of the organization.
When Vale joined ICMM in October 2006, our CEO, Roger Agnelli, stated that "Vale is committed to bringing social and economic development to the communities where we work". We believe that our engagement with ICMM will help us to achieve this goal.
Our decision to produce a sustainability report using the G3 standard of the GRI guidelines is one of a number of management measures designed to adapt the company to the challenges of Vale's new global prominence. Other measures include the revision of the company's Code of Conduct, and the establishment of new departments.
The Sustainable Development Department, established in 2007, is a recent development and will help the company implement an ambitious sustainability agenda. These measures appear to be paying off. The efforts of the Health and Safety Department, also established in 2007 and whose task is achieving "international standards of control and prevention of illnesses and accidents", have already led to a significant decrease in Vale's lost time injury frequency rate.
The company's activities are now located in highly varied operating environments, and we now routinely undertake an 'integrated socio-economic diagnosis' prior to commencing operations. To engage, for example, with the community leaders of Moatize – the region of Mozambique where Vale carried out feasibility studies for coal mining – requires, among other things, the ability to speak local languages and regional dialects, taking into account oral traditions, and the ability to interact sensitively with the régulos, the local tribal leaders.
In order to enhance our policies and share good practices in community development and other social and environmental issues, the company takes part in a number of sustainability-focussed business initiatives. Vale was one of the founding members of the Brazilian chapter of the World Business Council for Sustainable Development and, more recently, Vale has signed up to the UN Global Compact.
Support for these organizations is a way to demonstrate publicly our commitment to sustainable development. Membership of progressive business organizations can also help to retain and attract employees who feel more motivated and 'proud to be Vale'. Strict attention to human resource issues has certainly been an important aspect of Vale's expansion, and we have invested heavily in training and retention throughout the growth period. However, along with many companies in the industry, Vale has faced a shortage of skilled workers to support its development.
One of the ways in which we are responding to the skills shortage is through the development of Valer, our corporate university. Valer was launched in 2003 and it now operates in 21 locations across Brazil. In order to ensure that Valer's work represents international good practices, the university works in partnership with MIT Sloan, Switzerland's IMD and Brazil's Fundação Dom Cabral and Ethos Institute.
Training Support
Recently, Valer has increased its focus on sustainability issues by developing a 'training trail' for managers and other leadership teams on these issues. Another example of work in this area is Valer's training support for the company's Environmental Attitude Program, which was created in 2004 in order to standardize Vale's approach to environmental issues across the company. The program aims to reach 40,000 employees by the end of 2008.
Being a Brazilian company arguably gives us a competitive advantage in the way we manage sustainability. For example, the location of business units in the Amazonian states of Pará and Maranhão has led to a range of environmental initiatives such as the Vale Florestar project, which is voluntarily reforesting large portions of degraded areas of Pará state.
These efforts inform the company's wider approach to biodiversity and climate change. More broadly, the fact that Vale is based in an emerging market, where poverty alleviation is a signifi cant issue, has provided an added sense of urgency to our awareness of social and environmental issues.
Vale will shortly release its 2007 sustainability report, again using the G3 standard of the GRI guidelines. The very process of internal data gathering appears to have increased awareness of sustainability at several levels of the organization. Two of the issues currently uppermost in the minds of company executives are the continuous improvement of environmental practices in order to increase eco-effi ciency, and the need to maximize the company's contribution to economic development, particularly through job creation.
Through these efforts we hope that our management of social and environmental issues will keep pace with, and reinforce, Vale's strong financial performance.