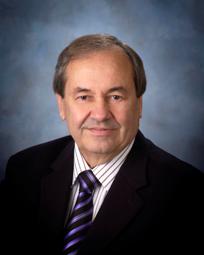 The trillion-dollar Sudbury Basin is the richest mining district in North America and among the top ten most strategically important in the world. Sudbury is located in the Canadian province of Ontario, whose annual 10.5 billion dollar mineral sector is the largest in the country. About half of Ontario's mining activity takes place in the Sudbury Basin.
In 2008, Sudbury is celebrating its 125th anniversary. For over a hundred years, the courageous and innovative men and women of this community have successfully produced the nickel, copper, PGMs and other metals that the modern industrialized world needed. Most industry experts will feel there is at least another 100 years of production in this amazing mining camp.
Mayor John Rodriguez considers himself to be a man of the people. 
John was born in Guyana, South America, where he received his elementary and high school education.  John emigrated to Canada in 1956 and attended Teachers' College in Toronto and began his teaching career in St. Catharines, Ontario.  He and his wife, Bertilla, moved to Coniston in 1962 where John was appointed Principal of St. Paul School.   John graduated from Laurentian University with a Bachelor of Arts Degree in English and Spanish Literature.  During this time, he was also active with the Provincial Catholic Teachers' Union having served as its President in 1968, and was a member of the Board of Governors of the Ontario Teachers' Federation.
John was elected to the House of Commons as NDP MP for Nickel Belt in October of  1972 and was re-elected in 1974, 1979, 1984 and 1988.  John was an active MP both in and out of the House of Commons where he served on many committees over his 18 year career.
John entered the realm of municipal politics when he was elected to the Coniston Town Council in 1971 before it became part of Nickel Centre.  John's second foray into local politics came in November 2006 when he was elected Mayor of Greater Sudbury.  He came into office with the belief that our municipal staff are our city's greatest asset.  Now, after spending time with hundreds of employees at their workplaces, his belief has become a conviction.   To acknowledge the importance of our staff's contribution, Council has designated 2007 as the 'Year of the Employee".
As part of Mayor Rodriguez's Inaugural Address, he committed to and has established four advisory panels in his first 100 days of office.  These panels include:  Municipal Mining Revenues, Performing Arts Centre, Health Cluster and Multi-Sport Recreational Complex.
       
John and his wife, Bertilla, have five sons and five grand children.  In his leisure time he enjoys reading, gardening and horses and is a patron of the local arts.
John feels privileged to represent the citizens of Greater Sudbury as their Mayor.  He is proud of this community and looks forward to an unprecedented period of growth and vitality.