My Dad was a Cree Indian. He was raised to be self sufficient in the bush. He was raised to know the importance of providing for his family through hard work and dedication. He was, in the true sense of the phrase, a hunter and a gatherer. Dad was not an educated man in the sense of a formal education. He went as far as grade three and realized that he could do more for his family by working at a logging camp at the age of twelve. He did a variety of jobs but always remained close to his cultural roots and continued to hunt, trap and fish to supplement his meager wages.
He tried his hand at a variety of jobs ranging from being on a road gang on the railroad, prospecting, guiding American anglers and hunters, as well as working as a labourer at various construction projects throughout Canada. He always returned home to be close to his family.
No matter how hard he worked or how many hours he remained on the job, often it was not enough to ensure that everyone in the family was fed. Many times my parents would go without so that all nine children could eat.
The Renabie Mine started production in 1947. It provided a much-needed economic boost for the region north of Wawa, Ontario. Renabie was a collection of three roads with small company houses lining the streets ending at the headframe and the processing mill. Further along the road were the recreation building and the single men's bunkhouse. The population at its greatest was two hundred men, women and children.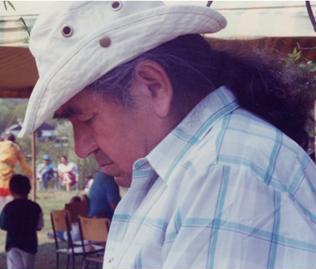 When Dad took a job at the mine and moved all of us to the company town of Renabie, things changed. While it was not perfect, it was the first time that our family had access to food from the company store whenever we wanted. An older brother could not believe what was set out – fruit and canned goods, milk and bread covered the kitchen table. He sat at the table, studying the food bounty laid out in front of him. He asked over and over – "Is all this for us? We can eat all of it? Now?"
It took some convincing from Mom and Dad before he believed that it was not a dream. We also had choices on what food we could purchase. We no longer had to wait until one of Dad's clients sent us case of oranges at Christmas to have fresh fruit during the winter months.
My father taking a job at the mine was a milestone for our family. No longer did we have to worry about having enough food; no longer did we have to worry about a warm place to call home (even though it was a company house and we paid rent); no longer did we have to wonder when the money would be coming in.
Many of the workers at the mine came from my community of Missanabie Cree First Nation. The women (my aunts and cousins) worked in the kitchen or at the store that also doubled as the post office. The men, some as young as fifteen years of age, worked on the surface or as underground miners. My grandfather, uncles, cousins, brothers and my dad worked at a variety of jobs. Was it easy for them? Racism was prevalent throughout Dad's working career. He dealt with those little minds by proving that he was the best at his job and management saw that he was capable and hardworking.
Dad, with his grade three education, knew that if he wanted a better paying job, he would have to upgrade his education. I remember him studying to get his grade ten high school credit at the kitchen table. He went on to be a licensed welder, millwright and fourth-class stationary engineer. All of this on grade three education. He wanted better for his children and he led by example.
It was much later, long after Dad retired from mining, that I began to understand the importance of his decision to work at the Renabie mine. The foundation he put in place for his children still stand strong today. All of my brothers went into a career related to heavy industry. Some achieved trades as electricians, mechanics or steamfitters.
Our family is strong today because of a decision Dad made over fifty years ago. He decided to work in the mine to provide for his family. He never forgot where he came from. He never forgot that he was a Cree man. He continued to hunt, trap, fish and seek spiritual renewal from the land.
Dad passed on his love of the land and his work ethic to us, helping to shape us into who we are today. We are strong, and like our dad, we know who we are, proud of our heritage and where we come from. We also know that we can do anything we put our minds to.
Glenn Nolan is the Chief of the Missanabie Cree First Nation, second vice-president at the Prospectors and Developer Association of Canada (PDAC) and is the co-chair of their Aboriginal Affairs committee.