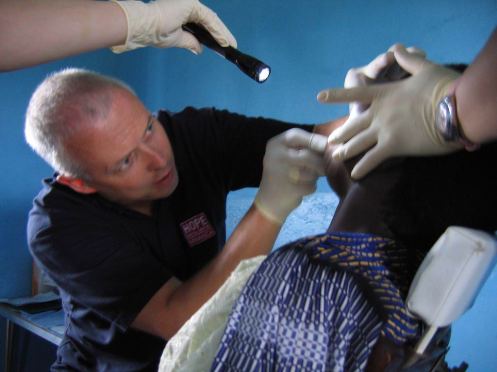 Over 5,000 villagers living in Tanzania's Lake Victoria area have received free emergency dental care, thanks to a unique partnership Barrick established with Bridge2Aid in 2003. Bridge2Aid is a British NGO specializing in providing dental care in Tanzania, where experts estimate 70 to 90 per cent of the population have no access to dental care.  
Barrick's involvement began five years ago, when the company's chief medical officer, Dr. Rob Barbour, recognized that dental problems were becoming increasingly serious at the Bulyanhulu mine in Tanzania. In many cases, employees were experiencing significant pain and infection associated with oral health issues. At that time there was only one option: patients were referred to a dentist in Dar es Salaam, over 800 kilometers away. As a result, employees spent more time away from the mine site and productivity began to suffer.
Meanwhile, for other residents living in the Lake Victoria area where Barrick's mines are located, oral health care was virtually out of reach. This lack of accessible dental services reflects a larger, country-wide trend. Today in Tanzania there is only one dentist for every 300,000 people, in contrast to the United States where there is one dentist for every 1,700 people. Moreover, many economically disadvantaged Tanzanians lack the income to pay for and maintain good oral health.
Barbour contacted Bridge2Aid Chief Dr. Ian Wilson in an effort to bring dental services right to the mine site. Wilson came up with a basic yet effective portable dental kit. His team then began conducting dental procedures at Bulyanhulu and the number of off-site referrals fell almost immediately. 
From these humble beginnings, the dental program at the mine has expanded to include a full range of procedures. Barrick invested in a dental unit with permanent equipment at the site, with Wilson and his Bridge2Aid team managing the clinic and supporting clinic staff to ensure quality of care remains high.
Today, these locally trained dental professionals have served nearly 1,500 mine workers at the company's Bulyanhulu, Tulawaka and North Mara mines. Local villagers living in these remote areas who have no dental coverage are able to use these clinics for free emergency dental care. The company also has plans to extend these services to Buzwagi, a mining project currently under construction and expected to start gold production in the second half of 2009.
"Our organization brings dental care to areas that would never have received this service before," said Bridge2Aid Chief Dr. Ian Wilson. "We welcome partners like Barrick that are investing in the health of their employees and the wider community."
According to Barbour, "Barrick's relationship with Bridge2Aid has helped us round out our push to offer holistic health care at all of our operations. We are proud to be associated with this dental NGO, which provides an invaluable service to so many people in Tanzania."
Throughout Tanzania, Bridge2Aid has trained rural clinical staff who now serve a population of between 250,000 and 500,000 people. The organization also operates the Hope Dental Center, a self-sustaining dental facility in the city of Mwanza, Tanzania.
This article was from Beyond Borders, a Barrick Gold quarterly report on responsible mining. For more stories go to: Beyond Borders March 2008