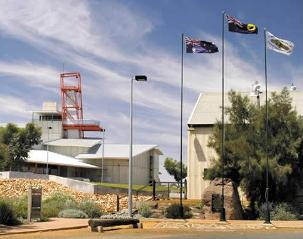 Australia is considered the third largest minerals producer in the world, larger than Canada. The value of minerals exports (including oil and gas) is forecast to reach A$116 billion in 2007-08. As a result, Australian mining, supply and service companies and expertise are in demand around the world. In fact 60% of global mines use software designed and produced in Australia.
Both, the enormous iron ore deposits in the Pilbara region of Western Australia and the vast bauxite reserves at Weipa in the state of Queensland are among the top ten most significant mining regions in the world. The mineral deposits at Mount Isa, Kalgoorlie, Kambalda and Bowen Basin, just to mention a few regions are all world class.
Australia is the world's leading producer of bauxite and alumina, number two in gold, iron ore, uranium, lead, zinc, number three in nickel and silver, and the fourth biggest black coal supplier. This is by no means a complete list.
Like Canada, Australia has experienced many gold rushes and other mineral booms in the past century and a half, that helped open up unexplored parts of their vast interior, increase immigration as well as contributed to the country's economic development.
As well-known Australian journalist Trevor Sykes once stated about his country's mining history, "…a saga of tough men, iron-nerved gamblers, violence, death and glittering riches set against the backdrop of some of the most awful country on earth."
Noted Australian history professor Geoffrey Blainey, who wrote the much acclaimed, "The Rush That Never Ended – A History of Australian Mining" stated in his book, "Australian prospectors found or pioneered new mining fields from the Rand to Rhodesia to New Zealand and the Klondike. Australian mining investors opened Malayan tinlands and New Guinea and Fiji goldfields, and there is hardly a mining field that has not used Australian innovations in metallurgy."
The Australian Prospectors and Miners Hall of Fame has graciously given Toronto-based Republic of Mining.com permission to post individual profiles from their digital archives of some of the most famous Australians who have made major contributions to their mineral industry.
Opened in 2001 and located in the Western Australian city of Kalgoorlie, the site of one of the country's most famous gold rushes, the Australian Prospectors and Miners Hall of Fame tourist attraction offers many exhibits that colorfully explain mining history as well as current industry practices. You can go 36 metres underground with a retired miner and see how mining was done at the turn of the last century with picks and shovels and wheelbarrows.
You can also watch a gold pour demonstration in the original 1920s Paringa Mine Gold Room or try gold panning in ponds on the property. Other galleries showcase a mineral collection, explain mining laws and regulations and environmental issues. The facility also has a major education outreach program.
The following website has more information on the Miners Hall of Fame as well as extensive archives profiling the men and women who made Australia such a global mining powerhouse: http://www.mininghall.com/Home.php