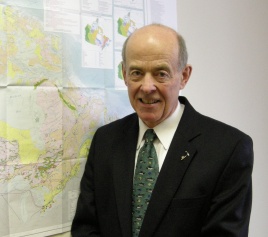 The Prospectors and Developers Association of Canada (PDAC) promotes the interests of the Canadian mineral exploration sector to ensure that there is an economically prosperous and competitive mining industry in Canada. A critical part of PDAC's mandate is to encourage the highest standards of technical, environmental, safety and social practices of the industry both in Canada and internationally.
New Presidents for the Prospectors and Developers Association start their two-year mandates just following the organization's convention held in Toronto, Canada in early March of each year.
Canadian-born President Jon G. Baird is an engineer who graduated in geophysics from the University of Toronto in 1964. He has a solid background in dealing with international business. For 28 years, Baird worked for Scintrex Limited – a manufacturer of instrumentation used in mineral exploration – establishing and running a dealer network in more than 55 countries. Since January, 1993, he has been the Managing Director of CAMESE, the Canadian Association of Mining Equipment and Services for Export.
Throughout his extensive career, Baird has visited 71 countries, speaks five languages and is working on a sixth, and his keen interest in marketing, geopolitics and global issues will all be a tremendous asset at a time when the global mining industry's social  license to operate is being challenged as never before.
Notwithstanding the good times, what do think are the top three challenges facing the mining and exploration industry globally?
New Deposits
Jon G. Baird – One of the biggest challenges is finding new deposits. Last year, the industry spent about US$10 billion on exploration, a little over three times the amount spent at the beginning of the decade and we don't seem to have discovered any major "elephant" deposits.
With China's voracious metal demands required for infrastructure, industrialization and increasing living standards, the industry desperately needs to find new deposits. And let's not forget that India and many other developing countries that are following in China's footsteps.
Labour Shortages
The second biggest challenge is the shortage of skilled workers. Human resources play a key role in finding new deposits. For about 25 years between 1977 and 2002, the industry went through a very rough time. Many of our skilled professionals left the mining sector. Enrollment in our mining schools declined drastically. And most of our mining engineers and geologists will be close to retiring in the next decade.
One comprehensive study two years ago stated that the Canadian mining industry needs to fill 81,000 high-paying, highly skilled new positions in the next 10 years. This will be a huge challenge around the world.
Cost Increases
The third issue is increasing costs, both for capital expenditures and operating current mines. High metal prices are very good for all the mining companies that before 2002 went through 25 years of predominately low prices and struggle. However, rising costs for energy, skilled people, transportation and increased regulatory roadblocks all affect the bottom line slowing down and sometimes killing proposed projects.
What are the top three additional challenges facing the Canadian mining and exploration sectors?
Environment
Jon G. Baird – One of the biggest challenges is the need to protect the environment. PDAC has taken a leadership role on this issue with our E3 initiative. We believe that exploration crews act as ambassadors for the global mining community. If the actions of the exploration crews cause damage then the affected communities will resist any further development.
The E3 initiative seeks to support environmental stewardship at the exploration stage by encouraging the implementation of sound environmental management practices by everyone connected to the industry.
Land Access and Tenure
An ongoing challenge is the continued access and tenure to land. Mineral exploration requires access to large tracts of land. We need this access simply because we never know where an economic ore deposit may be discovered. Only one out of every 1000 exploration plays becomes a working mine. The exploration industry's impact on the area in which we operate is miniscule and as I previously mentioned, PDAC's E3 initiative encourages environmentally sound practices.
Unfortunately there are many environmental organizations who would want to close off large areas of land to the mining industry. This is very unfortunate as our sector has the ability to generate sustainable economic development and significantly alleviate povertyin remote areas. Furthermore, small sized exploration companies need the assurances that they will be able to develop any potential deposits that they discover.
Relations with Aboriginal Communities
As I just mentioned, the mining industry has great potential to help solve some of the problems in many isolated Aboriginal communities. NRCan research indicates that there are about 1,200 aboriginal communities located within 200 kilometres of some 2,100 exploration properties across Canada.
It is becoming apparent that many Aboriginal communities want economic development and the industry need new generation of workers. At this year's convention, a Memorandum of Understanding (MOU) will be signed between PDAC and the Assembly of First Nations (AFN), represented by Grand Chief Phil Fontaine, that will recognize our common interests.
Regulatory Issues
I would like to mention two more issues that should not be overlooked. One is the increasing burden of regulatory issues that include lengthy permitting, costly duplication between different levels of government and/or ministries and departments.
These regulatory costs and hurdles help make mining in this country more expensive to operate and less competitive than other jurisdictions. We must try to make governments aware that if their red tape makes the industry too uncompetitive, we will loose the tremendous economic benefits that mining can provide, especially in isolated northern regions.
Corporate Social Responsibility
The final challenge that I would like to highlight is how Corporate Social Responsibility (CSR) is interpreted differently by stakeholders in this country and globally. In Canada, we tend to think about environmental issues when CSR is brought to the table. There is no doubt that the environmental footprint of the industry has been significantly reduced over the past few decades. And rightly so, I might add.
However, in lesser developed countries, CSR also tends to encompass major social initiatives that can range from education and medical to basic infrastructure requirements like clean water and power production. PDAC has a role to play in helping formulate clear guidelines and best practices that will help our industry meet environmental, social and economic challenges.
As head of an organization whose membership routinely operates globally, what do you feel is Canada's position in the world of mining?
Jon G. Baird – Canada continues to be a leader in the mining world when it comes to exploration, mines development, financing and the supply of goods and services. In fact I would not be reluctant to call us a "mining super power."   We are known for sustainable and environmentally safe and sound mining practices.
According to the Australian Institute of Mining and Metallurgy, over the next 50 years, the world will use five times all the mineral supplies that have ever been mined up to the year 2000.
With the rapid growth and industrialization of Brazil, Russia, India, and especially China – the BRIC economies – the world is entering a commodity super-cycle that may last for decades.
To maintain our past global leadership, we need to maintain our competitiveness in this country and continue to more strongly brand our mining strengths around the world.
What will be the top priorities during your two years as President of PDAC?
Jon G. Baird – My near term challenges are to strengthen our advocacy of the above issues to ensure that the Canadian industry continues to be an attractive and competitive mining jurisdiction.
Thanks to past good management, successful conventions and a strong exploration sector, PDAC has the means to make great progress in the next few years, under our well developed strategic growth plan to make progress on key challenges that I have mentioned.
End
Stan Sudol is an executive speech writer and mining columnist. www.republicofmining.com