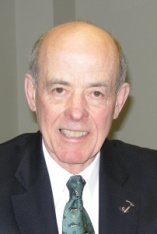 PDAC Presidents traditionally serve two years. Outgoing President Patricia Dillon will be relinquishing her position to Jon G. Baird, a Canadian-born engineer who graduated in geophysics from the University of Toronto in 1964.
His business career has spanned 28 years with Scintrex Limited, a Toronto based consultant and manufacturer of instrumentation used in mineral exploration and other applications. Responsible for the marketing and selling of Scintrex' products and services for over 20 years, Baird led a world wide campaign which helped make the company a world leader in its field.
Accomplishments included making the brand name well known to mineral exploration specialists in more than 100 countries, establishing and running a dealer network in more than 55 countries and negotiating major sales in many countries including Mexico, India, China and the U.S.S.R.
Since January, 1993, Baird has been the Managing Director of CAMESE, the Canadian Association of Mining Equipment and Services for Export. Founded in 1981, CAMESE exists for the sole purpose of assisting mining supplier firms to export. Since 1993, the membership of CAMESE has increased from 28 to over 250 companies, demonstrating the sector's interest in approaching new global challenges through a level of joint action.
Baird has been on the Board of Directors of the Prospectors and Developers Association of Canada since 1995 and since March 2006 has been First Vice-President of that organization.
He has visited 71 countries on business, speaks five languages and is working on a sixth. Baird is also interested in marketing, geopolitics and global issues.  He is happily married to his Swiss-born wife, Martha and resides in the country north-east of Toronto.
In one of my next postings I will interview incoming PDAC President Jon G. Baird about the main challenges and issues facing the mining industry and his goals for this organization over the next two years.