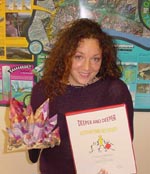 According to a comprehensive study by the Mining Industry Training and Adjustment Council (MITAC), the Canadian mining industry needs to fill 81,000 high-paying, highly skilled new positions in the next 10 years. 
Considering that the industry has a terrible image problem among urban populations and a rapidly aging workforce, the issue of attracting the next generation of mine workers has become a significant problem or even a crisis to some.
One small solution is Mining Matters, the educational outreach initiative run by the Prospectors and Developers Association of Canada (PDAC).
In the early 1990s, the Ontario school curriculum contained no requirements to teach about rocks and minerals. This was a major concern to the mining sector as students could go through their entire education with no knowledge about the industry's enormous wealth creation and employment opportunities, as well as the production of essential metals for our modern comfortable standard of living.
Modeled after a similar program in British Columbia, the Mining Matters program was started in 1994 and is currently run by Laura Clinton, a graduate from the University of Toronto's specialist program in environmental science. She came to Mining Matters in September 2002 from the Ontario Science Centre, where she had gained experience as a science educator as well as co-ordinating Earth and Space Week, and continuing education programs.
"As an earth scientist, I feel that I have an important responsibility to raise public awareness of the increasingly vital impact earth science has on our daily lives," says PDAC Mining Matters Project Coordinator Laura Clinton who is constantly on the road giving workshops to appreciative teachers.
Two different programs are taught at the workshops she gives. The first is called The Earth's Crust, and is directed at the Grade 7 level. The unit includes rock and mineral samples, testing and observation materials as well as maps and poster. For their final project, students must decide whether a mine will be allowed to be developed taking into account all the various stakeholders, just like in real life.
The second resource kit is called Discovering Diamonds, which teaches high school students about the riches of Canadian diamond sector.
Students will explore where diamonds are formed, how they reach the surface and how diamond-bearing kimberlites are found. Much of the technical guidance for this course came from industry experts and Ontario's first diamond mine, located in James Bay, is used as a case study.
Due to curriculum changes in Ontario, Mining Matters is currently adjusting the workshop materials.
During the past year, Mining Matters has been committed to delivering their teacher training workshops to isolated First Nation settlements across northern Ontario.
Last fall in Thunder Bay, Mining Matters kicked off their northern outreach with a presentation to principals and education directors from across the north, who attended a conference hosted by the Ontario Ministry of Education.
"Our work in Sachigo Lake First Nation was very memorable," says Clinton. "We spent our days volunteering in the classroom to engage students with hands-on learning opportunities. In short, the students and teachers gained new insight into why minerals and mining are important. Teachers in the community will also continue to benefit from our Educator Support Program."
They originally planned to visit six communities but far surpassed their original goal by eventually going to eleven First Nations including White Dog, Grassy Narrows, Shoal Lake, Fort Hope, Webequie, Sachigo Lake, and Rocky Bay.
"It is my hope that our work in northern communities will lay the groundwork for attracting more young people to the fields of exploration and/or mining. Education is the only way to build long-term awareness, acceptance and support for responsible mineral resource development," said Clinton.
There is a vital need for support as costs are significant for northern outreach. Continued funding will ensure that Mining Matters can offer their educational resources and training in Aboriginal communities who are not familiar with the many economic and social benefits the mineral sector can bring.
As a charitable organization, all aspects of the program's development and implementation are made possible by financial and in-kind contributions from the minerals industry, service sector companies, interest groups, individuals and government.
Through the donation of time and resources, the Ontario Ministry of Northern Development and Mines (MNDM) has been a critical part of the success of Mining Matters since its inception.
Year after year, thousands of rock and mineral samples are collected and donated by the province's team of resident geologists. The arduous task of collecting and breaking samples for the resources are vital components of Mining Matters kit production, as these samples provide students with an opportunity to learn through hands-on activities.
Clinton says, "It has been a great pleasure working with the industry and government partners, many of whom have taken the time to provide me with fascinating insights and educational tours of their facilities. I have thoroughly enjoyed these rare and invaluable learning opportunities that I routinely share during my workshops."
Since the program's inception, it is estimated that more than 400,000 teachers and students have learned about the importance of rocks, metals, minerals, mining, and Canada's geology.
It takes about $250,000 a year to operate the Mining Matters initiative. The PDAC supplies a yearly $50,000 for core operating costs, while the remainder is supplied by donations from individuals and the industry.
To learn more about Mining Matters or if you wish to donate to this initiative, visit www.pdac.ca/miningmatters/.
Stan Sudol is a Toronto-based executive speech writer and mining columnist. www.republicofmining.com