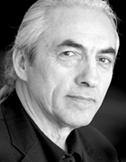 Phil Fontaine has devoted his life to improving the quality of life for First Nations citizens.  He was born in 1944 at Sagkeeng First Nation, 150 kilometres north of Winnipeg.  He attended residential schools in Sagkeeng and Assiniboia, later emerging as a leading critic of abuse in that system.
In the 1970s, Phil Fontaine served two terms as chief of his own Sagkeeng First Nation, promoting autonomy and treaty rights. In 1982, he was elected Manitoba's Vice-Chief for the newly formed Assembly of First Nations.
 
Following the defeat of the Meech Lake Accord, Fontaine was elected Grand Chief of the Assembly of Manitoba Chiefs, serving three consecutive terms from 1991 to 1997.  In 1997, he was first elected National Chief of the Assembly of First Nations.  As National Chief from 1997 to 2000, Fontaine fought to protect the rights, treaty obligations and land claims of First Nations people.  He became the first aboriginal leader to address the Organization of American States.
 
In 2002, he was appointed Chief Commissioner of the Indian Claims Commission, where he helped resolve several significant land claims.  In July 2003, he was elected to his second term as National Chief of the Assembly of First Nations. He is currently serving is third term as National Chief (2006-2009). 
The crowning achievement of his career to date is leading the successful resolution and settlement of claims arising out of the 150 year Indian residential school tragedy. The Final Settlement Agreement now being implemented and is worth over $5.2 billion in individual compensation. The settlement also includes a Truth and Reconciliation Commission, an education fund, healing resources and commemoration funding.
The next posting is a speech that Fontaine gave to the Prospectors and Developers Association of Canada discussing Aboriginal participation in the mining sector.