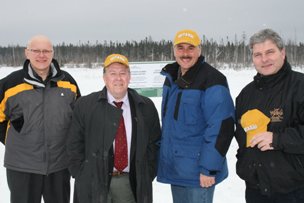 The Ontario Mining Association represents companies for which environmental stewardship is a cornerstone value. Our members realize that their success depends largely on their ability to help establish healthy communities and sustainable environments in the areas where they operate.
The economic sustainability that mining engenders is often the first thing that comes to mind. Indeed, in northern Ontario in particular, there is little need to explain that mining operations play a vital role in the local economy and community life, often bringing in the investment that leads to the development of essential infrastructure and job creation. A recent University of Toronto study brought this home to a wider audience.
It concluded that the contribution of a single representative mine can have an impressive effect on employment and economic output, and that a large proportion of the benefits stay in the local area. 
But the OMA realizes that it is not enough just to provide economic benefit to communities. Our values have evolved along with our communities of interest and are driven by a responsible approach to economic, environmental and social performance. To paraphrase from the Environmental Commissioner's recent report, "Reconciling our Priorities," we clearly see the need to strike a balance between economic development and environmental priorities.
Those who make their living from mining do so with the highest regard for the environment in which they operate.  They recognize and learn from the ways of the past, strive for excellence in what they do today and lay the groundwork for an even brighter future.  The Environment Committee of the OMA is a key player in seeking out, promoting and sharing best practices and technologies across the industry.
In 2001, the OMA Environment Committee formed a Mines Rehabilitation Task Force to explore possible partnerships to complement MNDM´s mine rehabilitation activities.  In 2003, the OMA and MNDM signed a Memorandum of Understanding establishing the Mines Rehabilitation Partnership.  Under the partnership, MNDM matches funds donated by OMA member companies to clean up select abandoned mine sites on Crown-owned lands.
Thanks to this partnership, I recently had the pleasure of going up to Timmins to celebrate an outstanding example of government and mining industry cooperation aimed at promoting sound environmental stewardship in the Province of Ontario.
At the former Kam Kotia mining site, Northern Development and Mines Minister Gravelle and I announced the next phase of land reclamation work. Under the Mines Rehabilitation Partnership, funding for this environmental project will be shared by the OMA and MNDM.  In making the announcement, we were joined by Ontario's Environmental Commissioner, Gord Miller, and Timmins Mayor, Tom Laughren.
The Kam Kotia Tailing Relocation Project involves wrestling 48,000 cubic metres of tailings from drainage areas and their removal, relocation and stabilization in safe impoundment areas.
Modern mining has made great strides in environmental protection. Our members consistently go beyond straight compliance with extensive provincial and federal regulations in order to minimize the impact of their operations on the environment.
Today, mines in Ontario must meet the strict requirements of the Rehabilitation Code under the Mining Act to be considered closed out. Consequently, all currently active mines in Ontario are required to have closure plans. They are also required to provide financial assurance to the government that will guarantee that the mines will be closed out according to plan. The funds committed to financial assurance in Ontario currently total close to $1 billion.
Unfortunately, past standards and practices, implemented in a much different social, legal and scientific context, did lead to problems, the effects of which we still see today.
In his remarks at the Kam Kotia site, Gord Miller pointed out that "What happened here reflected a different time with different values and ignorance of a different age. He also praised the fact that the companies contributing to cleaning up the site were not the ones that caused the damage. "This is not an act of contrition," he said, "This is not about the past. It's about the future. This is a statement of optimism."
Although OMA members have no legal liability for abandoned mines on Crown land, we are committed to helping solve the legacy issues that the Crown has inherited in this province. This is why we lobbied for and welcomed the so-called "Good Samaritan" amendments to the Mining Act, which will allow individual companies to make in-kind contributions to abandoned mine rehabilitation. This also why I was proud to announce that the OMA will make a contribution to the OMA/MNDM Mines Rehabilitation Partnership, which will go towards covering 50% of the next phase of reclamation work at the Kam Kotia site.
I would like to acknowledge the OMA member companies that have made generous contributions to this worthy initiative. In particular, I would like to single out substantial and ongoing commitment to this initiative by Vale Inco, Xstrata Nickel, Breakwater Resources and Blue Heron Solutions for Environmental Management.
Other OMA member companies that have contributed to the mines rehabilitation partnership over the years, include Barrick Gold, Boart Longyear, Denison Mines, Dynatec Corporation, Goldcorp, Golder Associates, J.S. Redparth, Newmont Canada, Omya Canada, and The Canadian Salt Company.
Last, but not least, the OMA commends the efforts of the McGuinty government to address the historical legacy of abandoned mines in Ontario and we are honoured to work with the government on achieving further progress in this area, especially with Northern Development and Mines Minister Michael Gravelle and his dedicated staff.
I am convinced that we can achieve great things together.
Chris Hodgson is the President of the Ontario Mining Association. www.oma.on.ca