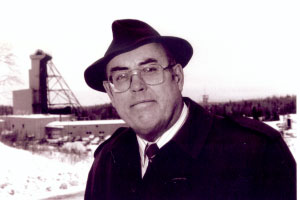 For someone who has been retired since 1989, Michael Barnes has no intention of slowing down.
The author of 50 books and counting, most about Northern Ontario, Barnes has had a long and varied career that included a bus conductor, a bush cook in Ramsey, and a beer thrower in Wawa.
He has also been a CBC freelance broadcaster and newspaper columnist, both for a time in Sudbury. But his "real job" was a public school teacher and principal working in locations across the north and finally ending up in Kirkland Lake.
Born in 1934, Barnes immigrated to Canada in 1956 after seeing a newspaper ad for desperately needed teachers in the wilds of Northern Ontario. He found himself in the isolated community of Biscotasing —a faded lumber and railroad village—living in a tiny shack with no electricity or water.
As he said, "You only got running water if you ran to the well!"
That lasted for only one year and his next move was to Sudbury, a community that was booming at the time. He also got his driver's licence here and remembered that the city had a reputation for bad drivers saying, "If you could drive in Sudbury you could drive anywhere."
It was when he finally settled in Kirkland Lake that his first book on Roza Brown, a gold camp pioneer was published. He has lived in or around mining camps for most of his adult life, and so it was only natural to start writing about these exciting events.
Fortunes in the Ground is one of his best known books about the three great mining camps of Cobalt, the Porcupine and Kirkland Lake. It not only highlights the winners and losers in those great discoveries, but also includes the ordinary people who came and pioneered Northern Ontario.
As Barnes said, "There is a romance to mining. You get caught up with the characters. You walk the same streets. Many of these places were hard-working and hard- drinking towns.
"Most people today have forgotten that in the late 1950s, Northern Ontario was still very isolated, a frontier populated by a variety of characters from many different backgrounds."
Another book, Great Northern Characters presents the stories of 25 men and women of Northern Ontario, some who may not have been considered successful by their fellow citizen, but were certainly fulfilled in their own opinion.
Archie Belaney (Grey Owl), Jack Englehart, Charlie Chow, Sandy McIntyre, Viola MacMillan, and Allan Roy Dafoe are only a few of the pioneers covered in this book. Do yourself a favour and Google those names to get a great understanding of Northern Ontario history.
Barnes remembers one important detail from those days, the incredible amount of wealth – gold, silver, nickel and lumber – that was shipped south. To him, very little of that wealth was returned to the north.
He has also written six children's books with engaging titles that include, The Sudbury Moon Chase and Monster from the Slimes.
The second book is about children playing near the red slime pipes in Kirkland Lake where strange noises and smells are the starting point of an adventure-filled mini-novel.
In 1995, he received the Order of Canada for his contributions to Canadian history. He just finished a book, The Scholarly Prospector, on Don Mckinnon, one of the two men who discovered the incredibly rich Hemlo gold deposit located near the town of Marathon.
Barnes is just starting another book under the auspices of the Prospectors and Developers Association of Canada that will chronicle mineral exploration in Canada since the Second World War. The book, More Than Free Gold takes up the story where Arnold Hoffman's popular work Free Gold left off in 1946.
Barnes says, "This will fill a gap in the story of Canadian resource history and these men want the facts to be retained for future generations."
Often called the "Pierre Burton" of Northern Ontario history, Barnes once met the man at a writers' union social function. Barnes' daughter introduced him to the famous author as "the "poor man's Pierre Burton." Burton supposedly replied, "How nice, just as long as he stays that way!"
Barnes is currently retired – I use that word loosely – in Haliburton, where, true to form he has authored three books on the central highlands of Ontario. This has been very beneficial to the local economy as there is little industry in the region other than tourism. He spent six months observing the wolves of the Haliburton Forest before writing a book on that subject.
"Northern Ontario gave me a good living," Barnes says.
"I met many great people and characters. I tried to pay back some of those gifts I received from the north by writing about this wild country and lonely land that few Canadians, especially southern Ontarians know so little about."
Barnes is currently working on book called RED LAKE – Golden Treasure Chest, to be published in September 2008, by General Store Publishing House in Renfrew, Ontario. Next week, the PDAC sponsored book, More Than FREE GOLD – Mineral Exploration since WWII will be available to the general public . He may be contacted at michaelbarnes53@hotmail.com