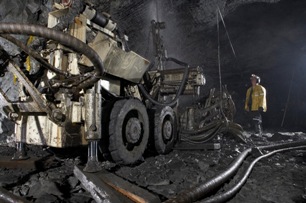 "We had the pick of the geologists' crop in the depressed mining sector of 2002 and subsequently built one of the country's biggest, youngest and most innovative exploration teams," continues MacGibbon. "And with all that historical data, our fantastic computer- literate staff played a key role in helping us decide where to drill."
Right from the beginning, this junior's exploration mindset was on steroids. From 2002 to 2007 FNX will have spent more than $100 million on exploring its properties in the Sudbury Basin.
Vale Inco spent $124 million in the region during the same period. By the end of this year two million feet of core will have been drilled by FNX, which roughly translates into 600 kilometres or the distance between Toronto and Montreal.
There have been many successes with eight significant mineral discoveries to date, of which five have been or are being considered for production, including the 2005 discovery of the high-grade Levack Footwall Deposit. Last spring, the company quadrupled its mineral resource inventory. Measured and indicated resources increased to about 43 million tons, while inferred resources went up to 35 million tons. The resource figures for recent copper, nickel and precious metal discoveries in the Levack mine have not yet been established.
A quick note on mineral inventories in the ground is in order. The "Reserve" category is only used for an operating mine or one near production. The "Resource" category is used for all other potential mineral measurements, but do not yet have an approved mining plan in place. Ore reserves that are classified as "Proven and Probable" have been thoroughly sampled to confirm size, grade and continuity of the deposit and include an approved mining plan. Ore resources reporting range from "Measured and Indicated" to "Inferred" – the first being the most defined due to extensive sampling while the latter being estimated from limited data.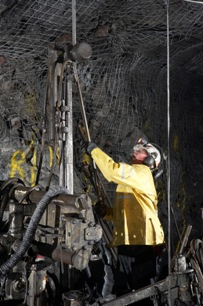 In the Sudbury Basin, Vale Inco has 175 million tons of proven and probable reserves as of 2006. The 2005 figures for measured and indicated resources were about 47 million tons and approximately 48 million tons of inferred resources. By comparison Xstrata Nickel has seven million tonnes of "Proven and Probable" reserves in 2006. Their measured and indicated resources are about 26 million tonnes and 29 tonnes of inferred resources.
Many in the mining industry feel that "Measured and "Indicated" carry almost the same certainty as "Proven and Probable." Technically speaking, FNX has become the number two miner in the Sudbury Basin when measured by mineral resources in the ground.
"One of the biggest risks for most junior companies is that they don't have the expertise to build and run a mine," said MacGibbon. "That is why we formed a 75 percent/25 percent partnership with Dynatec, the Sudbury Joint Venture, to benefit from their extensive mining experience. I would say that was one of the key factors for our success," MacGibbon said.
That partnership allowed FNX to get the mothballed McCreedy West Mine into production in less than a year, by the spring of 2003 and generate revenue for the growing company. The reconditioning of the Levack Mine was completed in early 2007, while the brand new Podolsky Mine – the site was a swamp three years ago – should start producing commercial quantities of ore early next year.
By 2008, FNX will be supplying CVRD Inco with approximately 1.4 million tons of ore a year – roughly between 15 and 20 percent of that company's Sudbury Basin production.
Last month FNX finalized the purchase of Dynatec's Mining Services Business for $53 million. The acquisition will help support FNX's ambitious expansion plans in Sudbury and, in these times of intense competition for skilled mining technicians, provide many opportunities for other contract business around the world.
The company has a strong balance sheet, $170 million cash and liquid investments in the bank, zero debt and a strong cash flow. They have an aggressive exploration agenda and two more Sudbury Basin deposits to focus on, once their three operating mines are running at full capacity.
With the recent announcement that Vale and Xstrata are in discussions about a possible takeover or merger, there is increased speculation about how long FNX Mining will remain a Canadian independent is rising.
"We are in this for the long haul, intending to increase shareholder value through organic growth, selective acquisitions, good geological analysis and extensive exploration," said MacGibbon. "We offer shareholders a growth opportunity that in two to three years will see FNX become a two million ton-a-year producer and a major player in Sudbury.