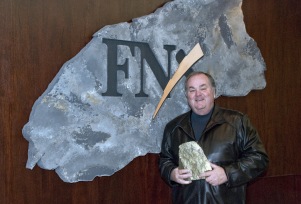 "Our company has a strategic position in the trillion-dollar Sudbury Basin which by far, is the richest mining district in North America," observes Terry MacGibbon, executive chair of FNX Mining Company Inc. "With China's and eventually India's voracious hunger for metals, expected to last for decades, the long-term growth and future of our company on solid ground."
MacGibbon's dedication to the region is proudly on display in the front lobby of the company's University Ave. head office – adjacent to Toronto's high-rise financial core where many of the country's top mining analysts and investors work – with a bold eight-by-four sculpted wall hanging in the shape of the famous Sudbury Basin.
"Most Canadians don't realize the Sudbury Basin is a global 'metallic super power' and that there are many incredibly rich mineral deposits still to be discovered here. This 120 year old mining camp will be producing nickel, copper and platinum for at least another century if not more," he said.
With two operating mines on the north range of the Sudbury Basin, another mine ready for production in 2008 and two other promising deposits in the district, many have overlooked the phenomenal growth of FNX Mining.
The company currently employs 570 people in this community and another 950 throughout the rest of Canada and the United States.
In a region that has been dominated by two mining giants Inco and Falconbridge – which are now foreign owned – for over a century, Canadian-controlled FNX has elbowed itself into the Sudbury Basin's number three mineral producer in record time. Some think within a half decade they may be in second place.
In 2007 alone, FNX will have spent about $350 million on supply and services, development, operating and exploration activities in the Sudbury Basin. FNX's shares which traded at 25 cents in 1997 are now in the $35 range.
According to the Globe and Mail's Report on Business, a $10,000 investment in FNX in 2001 would be worth a million dollars today.
The company has finally established itself as an exceptionally profitable mid-tier producer with a current market value of about $3 billion and forecasts revenues of about $400 million for 2007. FNX is the quintessential rags to riches Canadian mining story.
"I never really intended to retired," said MacGibbon emphatically. "After 30 years as an Inco geologist and global manager, I took my pension on Oct. 31, 1997 and the next day became CEO of Fort Knox Gold Resources Inc, the forerunner to FNX. The company was set up in his basement and started acquiring gold and base metal properties in Newfoundland, Manitoba, Alaska and Ontario.
MacGibbon's strategy was to acquire non-core assets from major companies.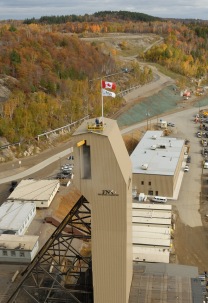 It was not an auspicious start for a mining junior. The Bre-X scandal was discovered earlier that spring, causing many investors to stay away from the mining sector and put their money into technology shares. The dot.com boom was just beginning. In the fall of 1998, the price of nickel hit its lowest price ever – $1.76 (US) – when inflation was factored in.
The company's big break came in 2002 when it acquired five former producing properties from CVRD Inco including the recently-closed Levack and McCreedy West mines.
The Levack Mine has a legendary reputation n Canada's mineral sector. It was discovered in 1887 and first began production under the Mond Nickel Company in 1914 through the No. 1 Shaft and operated until 1929. Vale Inco purchased the property that same year but did not resume mining until 1937 when the No. 2 Shaft was collared. Levack along with the McGreedy West Mine were both closed in 1999 due to record low nickel prices. The gross value of the historic production from the Levack Mine exceeds $45 billion in today's dollars and commodity prices.
When FNX purchased those mines, it also negotiated an agreement that all the ore discovered and developed would be sent to CVRD Inco's Clarabell Mill for processing.
"At the time, we knew there were smaller deposits in both mines that a junior could operate at a profit and that CVRD Inco needed that ore due to a shortfall from their other Sudbury Basin properties. The near term mining potential was very good. That is why we bid so aggressively for the assets," MacGibbon said.
In addition, the purchase came with a historical database of almost 8,000 boreholes averaging 1,000 feet per hole for a total of eight million feet. Today, it costs about $30 a foot for exploration drilling – giving an approximate value for all that past work of $240 million…. continued
Part Two of "FNX Mining- Sudbury Basin Success" will be posted tomorrow.