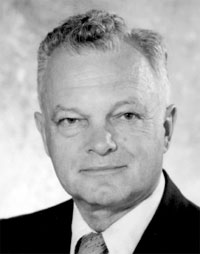 The Canadian Mining Hall of Fame honours the mine finders and developers who helped develop our northern and rural regions and created enormous wealth for the country. For more exciting profiles on the individual who made Canada a global mining powerhouse, go to: http://www.halloffame.mining.ca/halloffame/
Johannes J. ("Joe") Brummer was one of Canada's most accomplished exploration geologists. During a multi-faceted career that began with great promise in Africa's Copper Belt and spanned five eventful decades in Canada, he continually pioneered the development of innovative exploration techniques in the fields of geochemistry, Pleistocene geology and geophysics. His openness to innovation and willingness to employ new and original exploration techniques and geological theories contributed to the discovery of at least 10 mines or mineral deposits on two continents.
Brummer was born in Graff Reinet, Cape province, South Africa, in 1921. He was an economic geologist with degrees in mining engineering (1943) and mining geology (1945) from Witwatersrand University, South Africa, and he earned his PhD from Montreal's McGill University in 1955. As a young geologist in Zambia, he helped create the unconformity/-stratabound model for the Copper Belt, which reversed the prevailing hydrothermal model of the time. His findings were applied by others to generate the discovery of several new deposits along the belt.
Brummer began his Canadian career with Kennco Explorations in 1955, and over the next six years introduced stream-sediment geochemistry to Canada. His efforts set the stage for others to discover new mineral deposits in Canada, including several large porphyry copper and copper-gold deposits in the Western Cordillera. He then joined Falconbridge Nickel Mines and applied new geological concepts and geophysical methods to help find three new deposits in the Manitoba nickel belt. His team discovered the down-plunge extension of the Rod copper-zinc deposit in Manitoba, and used boulder tracing and a study of the Pleistocene geology to discover the George Lake zinc deposit in Saskatchewan.
In 1970, Brummer was appointed exploration manager for Canadian Occidental and remained in this position until 1983. He recognized the potential for blind unconformity-type uranium deposits in Saskatchewan's Athabasca basin and applied innovative geophysical methods to test this potential, including the first reconnaissance Alphameter survey in 1976. Three years later, under his leadership, a vertical hole drilled through an Alphameter-electromagnetic anomaly intersected ore-grade mineralization beneath 162 metres of Athabasca sandstone. The discovery of the two McClean Lake uranium deposits was followed by the 1982 discovery of the JEB uranium deposit, now mined out.
Brummer's passion for exploration extended to a broad range of mineral deposit types and included the search for diamonds in North America. His discovery of kimberlites (albeit sub-economic) in the Kirkland Lake area of Ontario in the 1980s established him as one of the pioneers of Canadian diamond exploration. He published many important papers on the geology of Canadian mineral deposits and exploration techniques and impressed his peers with the amazing depth, breadth and diversity of his geological knowledge and willingness to share this knowledge with others, as indicated by his three Barlow gold medals from the CIM. He received several other prestigious industry awards as well, including the Duncan Derry Medal in 1984, the highest award bestowed by the Mineral Deposits Division of the Geological Association of Canada.