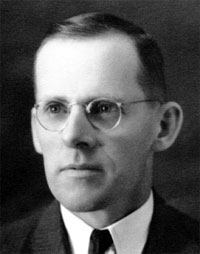 ErnesThe Canadian Mining Hall of Fame honours the mine finders and developers who helped develop our northern and rural regions and created enormous wealth for the country. For more exciting profiles on the individual who made Canada a global mining powerhouse, go to: http://www.halloffame.mining.ca/halloffame/
t Craig was the first general manager of Falconbridge Nickel Mines, building a mine and a townsite in the late 1920s that became the foundation for the international powerhouse that now operates under the Xstrata banner. One of 12 children born in Kearney, Ont., Craig left school early in search of employment. He found his calling at age 19, when he began working in the emerging mining camps of Eastern Canada.
As he helped build and manage various mines, his talents caught the attention of the legendary mine-finder, Thayer Lindsley, who appointed him the first general manager of Falconbridge Nickel Mines in 1928, the year the company was founded.
Through inspirational leadership and sound management, Craig helped transform a remote Ontario countryside into a world-class mining and metallurgical complex that continues to contribute to Canada's status as a centre of mining excellence. Eighteen months after his appointment, a 300-ton-per-day mill and smelter were processing ore and concentrates from a new nickel mine serviced by a shaft sunk to 1,000 ft., with more than 4,000 ft. of underground workings.
The Falconbridge site was not part of any municipality at the time, so Craig helped build the town and service it with a hospital and school. He was a compassionate industry leader who believed that the company's responsibility extended into the community and to the welfare of employees and their families. He was known as the "Town Father" because of his tireless efforts to provide sporting social events and venues such as the Falcona camp for employees' children. In 1993, Falconbridge (now Xstrata Canada) named its newest and largest mine in the Sudbury basin in his honour. The Craig mine is a fitting legacy for the man who guided the original Falconbridge operations from startup through some very challenging times, including the Depression and wartime.
Craig had other accomplish- ments. With his brother Robert, he helped design the Craig bit, a detachable drill bit that tripled drilling productivity by eliminating the need to sharpen individual steel rods used in underground drilling. The Craig Bit Co. was established in North Bay, Ont. in 1941 to manufacture Craig bits for world markets, and soon became the city's second-largest employer. The North Bay plant also aided the war effort by manufacturing components for large shells.
After his retirement in 1945, Craig consulted for Falconbridge's parent company, Ventures Ltd., which sent him to the Peterborough area of Ontario to review an industrial minerals company struggling to develop a deposit of nepheline syenite, a mineral used in glass and ceramic production. He saw merit in the project and recommended building a new mine and mill and a townsite called Nephton. He was appointed president and general manager of American Nepheline (later known as Indusmin Ltd.) and successfully implemented the plan on a tight budget, setting the stage for the company's subsequent growth and expansion.