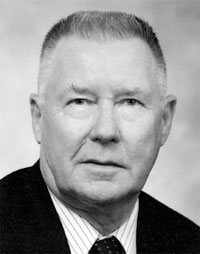 The Canadian Mining Hall of Fame honours the mine finders and developers who helped develop our northern and rural regions and created enormous wealth for the country. For more exciting profiles on the individual who made Canada a global mining powerhouse, go to: http://www.halloffame.mining.ca/halloffame/
Carroll O. ("Chuck") Brawner is known and respected worldwide for his contributions to open-pit mining and geotechnical engineering.
He earned his reputation as a foremost authority in these fields as the result of professional experience gained over half a century in no less than 40 nations and all the world's continents, including Antarctica. In 1963, he co-founded a consulting firm that provided technical assistance to hundreds of open-pit mines and mineral projects in Canada and around the world. Golder Brawner and Associates subsequently evolved into Golder Associates, an internationally recognized firm with multi-disciplinary expertise.
Brawner was born in Saskatoon, Sask., in 1929, and graduated in civil engineering from the University of Manitoba in 1953. After completing a master of science degree in soil mechanics from Nova Scotia Technical College (now part of Dalhousie University) in 1958, he gained valuable experience in British Columbia, which, because of its mountainous terrain, posed design challenges to both civil and mining engineers. He spent 10 years with the province's Department of Highways before becoming president of Golder Brawner and Associates, which specialized in the application of engineering principles to the design of man-made slopes in soil and rock.
During his years as a consultant, he provided technical guidance on the design and construction of many of the world's largest and most important surface mines, including coal operations. He earned a reputation as being the best person to solve — and prevent — geotechnical problems, and became an authority on the design, construction and maintenance of stable tailings dams. While providing sage advice, he always strived to protect the safety of people, property and the environment.
In 1978, at the pinnacle of his engineering career, Brawner was appointed a professor of mining engineering in the University of British Columbia's Department of Mineral Engineering, later known as the Norman B. Keevil Institute of Mining Engineering. He inspired hundreds of engineering students during his tenure in academia, with spellbinding lectures that combined tales of exciting foreign travel with memorable and often unique engineering lessons. His courses on tailings dams and slope stability and mine design were core components of the mining program. He also contributed to the global advancement of geotechnical engineering through dozens of published technical papers and numerous lectures delivered at more than 90 universities and institutes.
Since 1978, he has also continued as a specialist consultant and member of international review boards and panels as C.O. Brawner Engineering. He has edited 10 major mine geotechnical texts published by the Society for Mining, Metallurgy, and Exploration and Miller Freeman Publications, served on numerous technical committees and chaired important industry conferences. His contributions to his profession have been recognized with many awards from North American engineering and mining organizations.
Brawner chronicled his experiences in geotechnical engineering in his autobiographical book, Engineer. . . Around the World in Fifty Years, published in 2006.