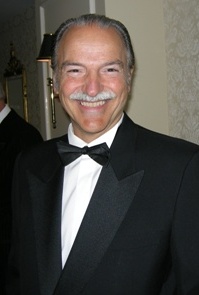 The Canadian Mining Hall of Fame (CMHF) celebrated its 20th anniversary with a star-studded line-up of industry movers and shakers on January 17th 2008, at the Fairmont Royal York Hotel in downtown Toronto. The annual dinner and induction ceremony is one of the social highlights of the mining industry which has a lot to be celebrating about this year in addition to the five new members that were inducted that evening – Carroll O. Brawner, Johannes J. Brummer, Ernest Craig, Chester F. Millar and David A. Thompson.
In total, including this year's inductees, 135 individuals have been honored for their outstanding lifetime achievements to the benefit of the country's minerals industry.
Many people and politicians still think the mining sector is a boring, polluting, low-tech industry that should be delegated to the dustbins of history. A quick review of the many prospectors, metallurgists, geo-scientists, and corporate financiers in the hall of fame, whose discoveries and technological advances have made Canada a global mining powerhouse, would quickly change those negative perceptions of the industry.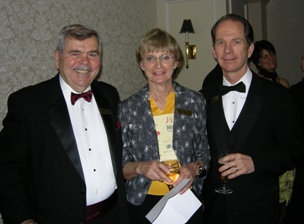 Stories of intense courage, guts, greed and glory. Stories of passionate believers with quiet and tenacious determination. Stubborn characters who would not give up. These are the people who helped populate our isolated north, created enormous amounts of shareholder and corporate wealth and jobs for hundreds of thousands if not millions of Canadians.
That is why the Canadian Mining Hall of Fame is so important. It is the keeper of the flame ensuring that the next generation understands and is justifiably proud of the enormous contributions and debt we owe to those that preceded us.
The four main sponsors of the Hall of Fame are the Northern Miner, the Mining Association of Canada (MAC), the Prospectors and Developers Association of Canada (PDAC) and the Canadian Institute of Mining, Metallurgy and Petroleum (CIM) which also publishes an industry magazine.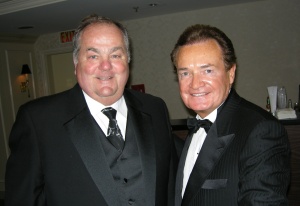 Once again, this year's master of ceremonies was the very funny Pierre Lassonde, CEO of the World Gold Council and Franco-Nevada Corp. Keeping the crowd in stitches with his quips and commentary, Lassonde could easily have a second career as a stand-up comic.
Seated at the head table was a cross-section of Canada's mining elite, including Vale Inco President and CEO, Murilo Ferreira, Xstrata Nickel CEO Ian Pearce, Executive Chair of FNX Mining Company Inc., Terry MacGibbon, Teck Cominco President and CEO, Donald R. Lindsay and Constantine Metal Resources Director/Geologist Tara M. Christie, just to name a few.
Retired editor and publisher of The Northern Miner, Maurice R. Brown, originally conceived of the idea as a way to recognize and honour the legendary mine finders and builders. The hall was established in 1988 with the financial contributions of the four main sponsors.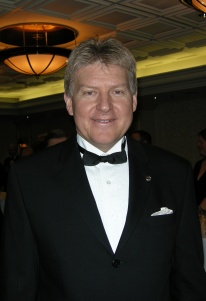 Nean Allman is the Canadian Mining Hall of Fame Coordinator and sometime introduces herself as the chief cook and bottle washer. Essentially, she tends to the many details involved with putting on the dinner with great deal of help from the Women's Association of the Mining Industry of Canada. (WAMIC).
Neal Allman said, "Around the beginning of this decade, I gradually took over the "master planning" from John Cook, former publisher of The Northern Miner and CMHF director. He had supervised the dinner for many years, putting his heart and soul into it and deserves a huge vote of thanks for putting the event on the map."
"What I do find very enjoyable is meeting the inductees and their families, seeing a more personal side to them perhaps, and hearing their stories. It makes me realize what an interesting and diverse bunch of people there are in the industry," she said.
Family members usually accept the award for individuals who have passed away. Ernest Craig's daughter Barbara Mather and his granddaughter Susan Senior accepted the award on his behalf. Susan Senior enchanted the audience with one particular story about her grandfather.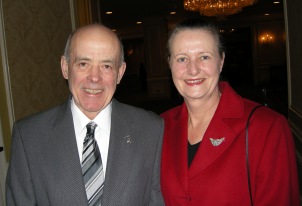 It took place in the Timmins gold camp in the early 1920s. Ernie Craig and Noah Timmins had a crazy bet. If Ernest would carry a skunk under his arm down the main street in Timmins, Noah would have to buy him a fine top hand – something that Fred Astaire would wear. To much applause she took out and put on that much prized top hat.
Daughter Barbara Mather said, "I know he would like to share this honour with the men who followed him from mine to mine."
In his acceptance speech Chuck Brawner, said, "The importance of mining is underestimated by the general public and that mining must work harder to improve their image." In reference to vocal anti-mining environmentalist, he said, "Parking lots at MacDonalds have a greater area in North America than the continent's mines."
Along the same theme, Chester F. Millar commented on how mining industry has changed and that it is not a welcome industry in Canada and the United States. He indicated that he focuses his attention in Mexico and other less developed countries where mining is more accepted, however that the industry must work harder to improve its reputation.
A full summary of the many contributions this year's five Canadian Mining Hall of Fame inductees have made are in the next few postings. Visit the Mining Hall of Fame website at: http://www.halloffame.mining.ca/halloffame/ for profiles on a wide variety of very interesting people who have made tremendous contributions to this country's mining history.
Both the Australians and the Americans, countries with a historic mining culture have hall of fames celebrating the many contributions of their national. There are many Americans in the CMHF. Surprisingly, given the enormous contributions given the industry by the British, they have no mining hall of fame. Neither does the South Africans, another country that historically and currently depends on this vital industry for a major part of its economic prosperity.
National Mining Hall of Fame and Museum (U.S.A) http://www.mininghalloffame.org/ 
Australian Prospectors & Miners Hall of Fame http://www.mininghall.com/